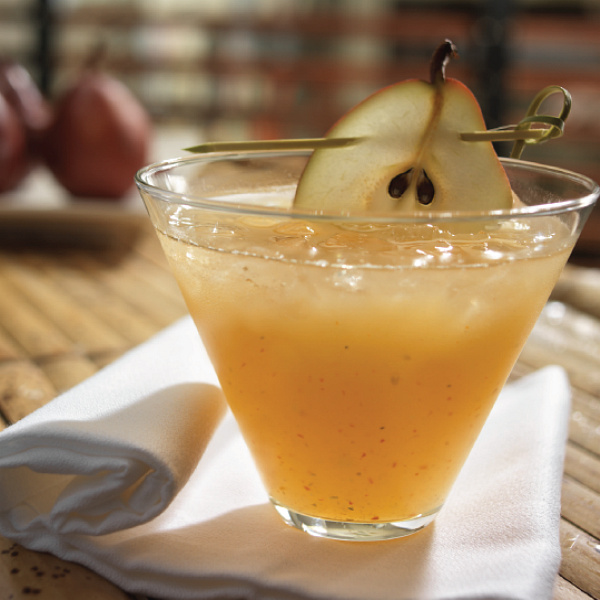 Kietsu: A Sake Pear Margarita
Cultivated palates around the world thirst or flavor combinations that inspire. In this fresh pear cocktail, crisp, dry sake and smooth silver tequila unite for an intriguing fusion of flavors and cultures.
INGREDIENTS
1/3 USA Red Anjou pear, coarsely chopped
1 oz Pear-Persimmon Puree (see recipe)
1 oz Pear-Riesling Syrup (see recipe)
1-1/2 oz silver tequila
1/2 oz orange liqueur
3/4 oz silver sake
1/4 oz lemon-lime juice (2 parts lemon, 1 part lime)
1 oz pear nectar, such as Santa Cruz
Ice
DIRECTIONS
Mix
Fill shaker halfway with pear and ice and muddle thoroughly. Add remaining ingredients, top shaker with ice and shake to mix. Strain into a rocks glass filled with ice and garnish with a paper thin slice of a small pear, such as a Forelle or Seckel.
Pear-Persimmon Puree
Puree in blender until completely smooth:
• 1 ripe USA Red Anjou pear, cored and chunked (do not peel)
• 1 ripe Hichiya persimmon, peeled and cut into chunks
• 1 oz simple syrup
Pear-Riesling Syrup
• 1 ripe USA Red Anjou pear, cored and diced (do not peel)
• 1-1/2 cups Riesling wine
• 1-1/2 cups sugar
Add pear and Riesling to a medium saucepan and bring to simmer over medium heat. Reduce heat, add sugar, stirring to dissolve, and continue to simmer until syrupy. Strain and cool.
NUTRITION
Serving Size: 6 oz
Calories: 390
Carbohydrate: 47g
Dietary Fiber: 3g
Protein: 1g