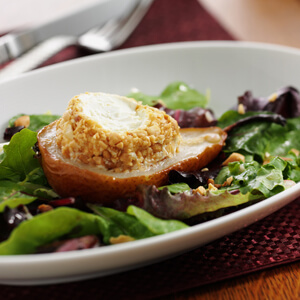 Warm Peanut-Crusted Goat Cheese with Roasted Pears
Roasting pears takes little effort yet garners big results. Pair roasted pears with fresh greens and a warmed round of soft goat cheese that's encrusted with crunchy chopped peanuts, and you have a salad that's a perfect balance of texture and flavor. Chef and cookbook author Virginia Willis, author of "Bon Appetit, Y'all" and the creator of this delectable salad, notes that "it makes for a perfect combination that can be enjoyed by the whole family."
INGREDIENTS
1 cup very finely chopped peanuts
1 4-ounce log of goat cheese
2 tablespoons unsalted butter, melted
2 tablespoons finely chopped shallot
2 teaspoons Dijon mustard
1 tablespoon red wine vinegar
3 tablespoons extra virgin olive oil
10 ounces mixed baby salad greens
DIRECTIONS
Heat the oven to 400 degrees. Place the finely chopped peanuts in a shallow dish. Season with salt and pepper. Roll the goat cheese log in the peanuts to evenly coat. Refrigerate until firm if necessary, then cut evenly into 4 rounds.
Arrange pears, cut side down, in a baking pan. Pour butter over the pears and toss to coat. Return pears to cut side down position. Roast until tender, about 25 minutes. Arrange pears cut side up in the baking dish. Place rounds of peanut-crusted goat cheese on top in the scooped center. Continue to roast 5 minutes more, until the cheese is melted and soft.
Meanwhile, whisk together the shallot, mustard, and vinegar. Add oil in a slow stream, whisking until emulsified, and season with salt and pepper. Just before serving, toss salad greens with just enough dressing to coat. Remove pears from the oven and serve each salad topped with a roasted pear topped with goat cheese.
NUTRITION
Serving Size: 9 oz
Calories: 530
Carbohydrate: 23g
Dietary Fiber: 8g
Protein: 17g