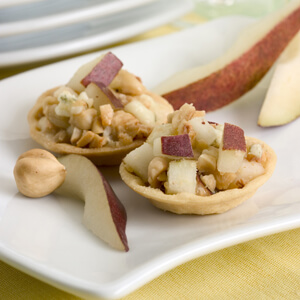 These festive appetizers are fast and easy to make. Using ready-made tartlet shells cuts the prep time down to no time! And the rich flavor of red pears combined with toasted hazelnuts and gorgonzola can't be beat.
INGREDIENTS
30 frozen mini phyllo shells
½ cup toasted hazelnuts, chopped
4 ounces Gorgonzola cheese, crumbled
1 Red Anjou USA Pear, cored and diced
DIRECTIONS
Preheat oven to 350 degrees.
Place mini phyllo shells on baking sheet. In medium sized mixing bowl combine hazelnuts, cheese, and pears. Fill shells with pear mixture.
Bake for 15 minutes or until cheese is hot and starting to bubble. Serve warm.
NUTRITION
Serving Size: 3 Tartlets (47g)
Calories: 130
Carbohydrate: 13g
Dietary Fiber: 1g
Protein: 4g