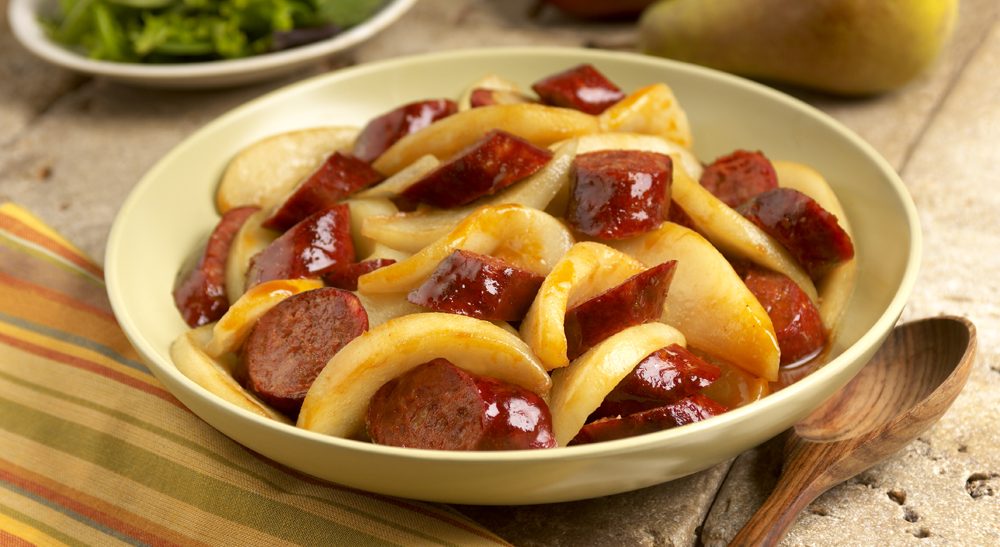 Recipe by Micah Willix of Ecco Restaurant, Atlanta, Georgia. The pears, chorizo, and gastrique sauce can be made ahead and reheated together just before serving.
INGREDIENTS
3 Anjou USA Pears
1 tablespoon butter
1 ½ pounds good quality chorizo links
Pear Gastrique
¼ cup chopped onion
2 tablespoons diced celery
2 tablespoons diced carrot
2 teaspoons minced garlic
⅓ cup pear cider
2 tablespoons granulated sugar
1 can (14 ½ ounces) reduced sodium beef broth
DIRECTIONS
Peel, core, and slice pears ⅛-inch thick. Melt butter in a 10 to 12-inch wide skillet. Add pears; cook, stirring occasionally, until tender and lightly caramelized, about 15 minutes. Set aside.
In an oven-proof skillet, quickly brown chorizo links over medium-high heat. Place pan in 350 degree oven and bake until chorizo is cooked through, about 15 minutes. Remove from pan and drain on paper towel. Drain grease from pan, leaving a light coating.
For gastrique: Sauté onion, celery, carrot, and garlic in chorizo pan over medium heat until lightly browned. Stir in pear cider and sugar. Simmer until liquid is reduced and syrupy. Add broth and bring to a boil. Cook over high heat until ¾ to 1 cup liquid remains. Strain; discard vegetables and reserve gastrique.
To serve: Slice chorizo into ½-inch pieces. In a wide skillet, heat pears and chorizo. Add ¾ cup gastrique. Bring to a simmer over medium-high heat; cook about 2 minutes until liquid is slightly reduced and thickened. Pour into a shallow bowl and serve family-style as a first course or side dish.
NUTRITION
Serving Size: 1 Cup
Calories: 630
Carbohydrate: 23g
Dietary Fiber: 3g
Protein: 29g