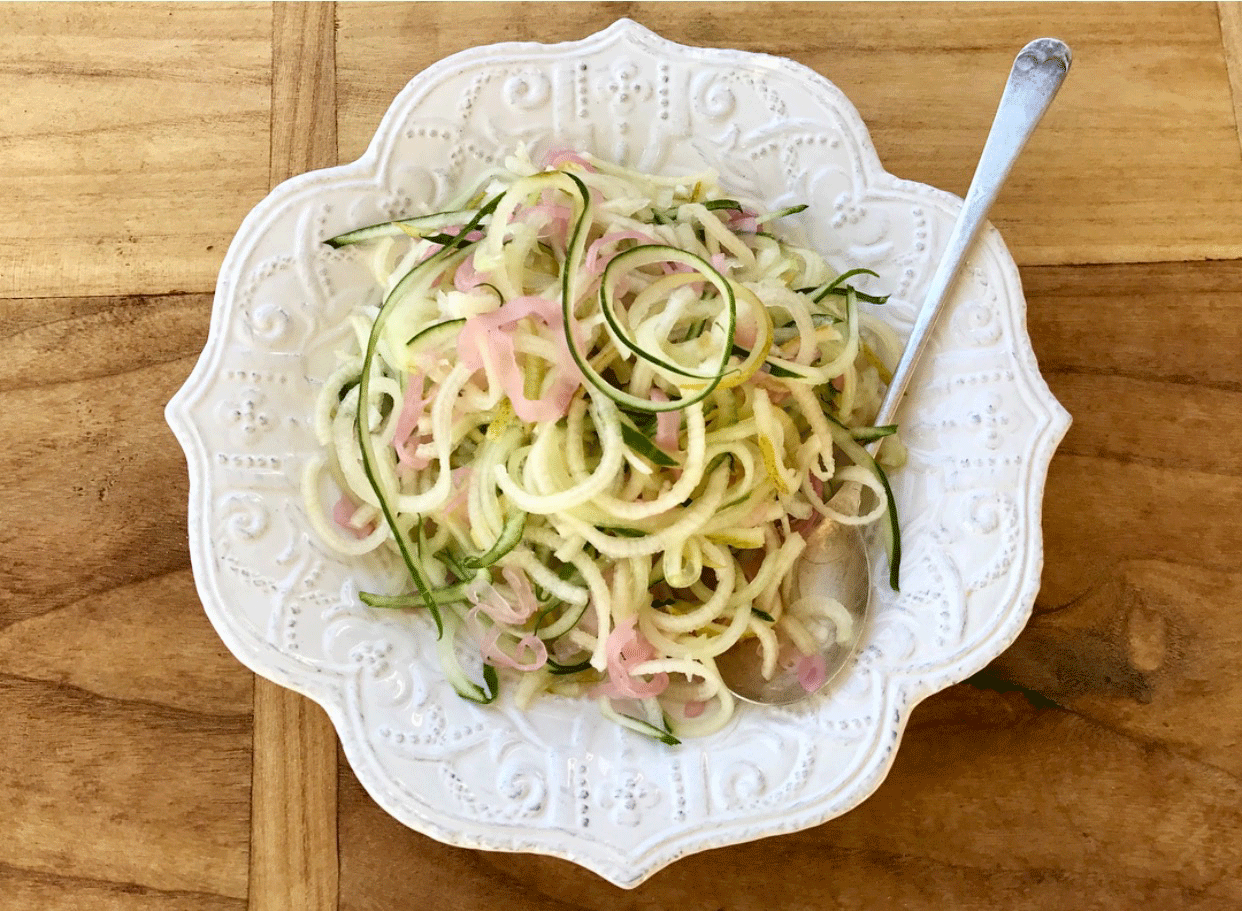 Sweet and Sour Spiralized Pear and Cucumber Salad
In the height of summertime, pears offer a crisp and refreshing element in salads. Their porous texture sops up tangy dressings like a flavor sponge, and that sweet pear perfume enhances nearly any combination of summer vegetables. Cucumbers are a particularly nice "pearing" in raw salads, and if you have a spiralizer, both cucumbers and pears are ideal for turning into twirly, noodle-like strands. This crunchy salad is a take on that classic sweet-and-sour cucumber recipe that everyone loves this time of year. If you don't have a spiralizer, simply slice the pears and cucumbers on a mandoline, or as thinly as you can using a chef's knife. Partner this crunchy, vibrant salad with fish or shrimp hot off the grill, or bring it to the next potluck picnic.
INGREDIENTS
1/3 cup cider vinegar
1 tablespoon sugar
1/2 teaspoon salt
1 shallot, thinly sliced
2 Anjou pears
1 seedless cucumber
DIRECTIONS
Whisk together the vinegar, sugar, and salt in a large bowl. Add the sliced shallot and stir to combine. Set aside for at least 20 minutes and up to 1 hour to macerate the shallots.
Meanwhile, spiralize the pears and cucumbers: Trim the stem from one of the pears and place it in the spiralizer. Process it through the blades, stopping when you reach the core. Repeat to spiralize the other pear. Next, cut the cucumber to fit in the spiralizer and process it through.
Add the spiralized pears and cucumbers to the bowl of dressing and shallots. Toss to combine. Set aside to marinate for at least 5 minutes and up to 30 minutes before serving. Taste and adjust the seasoning, adding more sugar or salt as needed, then enjoy!
NUTRITION
Serving Size: 1 Cup
Calories: 70
Carbohydrate: 18g
Dietary Fiber: 4g
Protein: 1g
---
1 Comment » for Sweet and Sour Spiralized Pear and Cucumber Salad