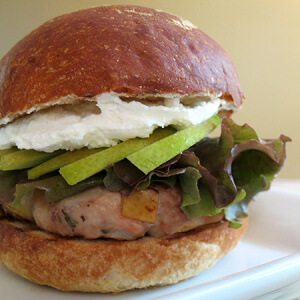 Turkey Burgers with Caramelized Pears and Sweet Onion
These delicious and juicy burgers are perfect for a summer cookout. Firm-ripe USA Pears, sweet onion, ground turkey, and fresh thyme come together to make a quick and easy dinner. Creamy goat cheese and more pear slices top these fresh and light turkey burgers for a nice change of pace from a traditional beef burger. Throw some zucchini and red peppers on the grill, and the meal is complete! Make a double batch of these burgers and freeze the uncooked patties between sheets of waxed paper for a quick dinner down the road. Recipe developed by Hilary Finch Hutler.
INGREDIENTS
Burgers
¾ pound ground white turkey
¾ pound ground dark turkey
1 firm-ripe USA Pear, such as Bartlett or Anjou, medium dice
½ a medium sweet onion, medium dice
½ teaspoon chopped fresh thyme
1 ½ teaspoons kosher salt
Freshly ground black pepper, to taste
Olive oil for brushing, to taste
For serving
4 burger buns of your choice
Whole-grain mustard (optional)
6 ounces chevre (goat cheese), at room temperature
1 ripe USA Pear, such as Bartlett or Anjou
Leaf lettuce (optional)
DIRECTIONS
In a large bowl, combine the ground turkey, diced pear, onion, thyme, salt, and pepper. Mix gently with your hands until combined. Form the mixture into 4 patties. Brush the patties lightly with olive oil to prevent sticking. You can refrigerate the burgers at this point until ready to grill.
When you're ready to cook the burgers, preheat your grill to medium heat. Once hot, grill the burgers for 5-6 minutes per side, or until just cooked through. Spread the bottom bun with mustard and place a burger on top. Top each burger with a lettuce leaf and ¼ of a pear, sliced. Spread each of the bun tops with ¼ of the soft goat cheese and assemble to complete the burger.
NUTRITION
Serving Size: 1 Burger
Calories: 780
Carbohydrate: 38g
Dietary Fiber: 4g
Protein: 57g