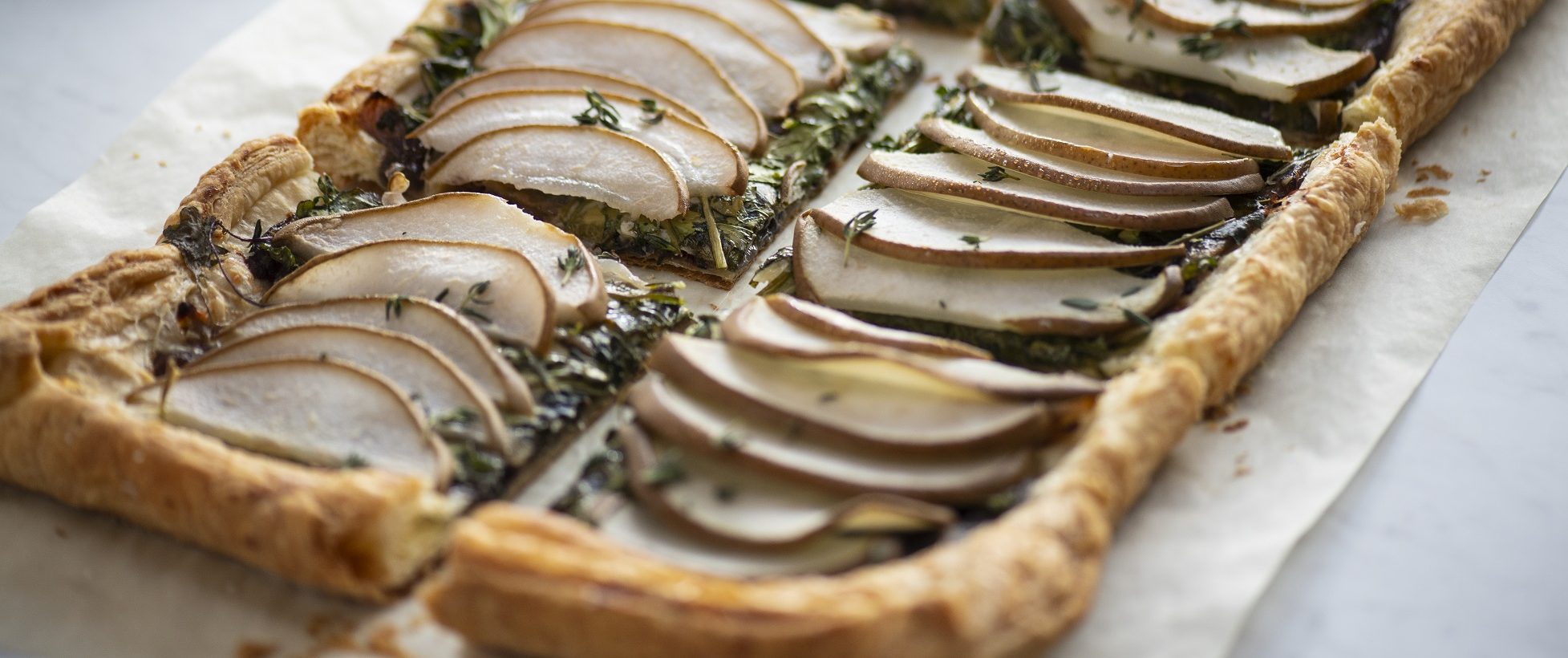 Savory Pear and Gruyere Tart
Who says a pear has to be for dessert? This recipe takes pear pastry in a savory direction by working in caramelized onions, nutty Gruyere, and a generous helping of peppery arugula. These ingredients collectively make a perfect counterpoint to sweet, tender, fresh pears. The result if plainly delicious. Using store-bought puff pastry takes much of the work out of making a tart and can cause even an entry level baker to feel like a pro. Serve this tart with a simple green salad on the side. Recipe and images by Katie Morford
INGREDIENTS
2 tsp extra virgin olive oil
1 lrg red onion, cut into 1/4-inch-thick half moon slices
1 tbsp finely chopped fresh rosemary
salt
1 sheet frozen puff pastry dough (about 9 ounces), thawed according to package directions
All purpose flour for rolling out the dough
1 cup grated Gruyere cheese (2 1/2 ounces)
2 gently packed cups arugula or baby kale
2 firm Anjou pears that are just beginning to ripen (about 1 pound)
DIRECTIONS
Preheat oven to 400 degrees F. Cover a baking sheet with parchment paper or a silicone baking mat.
Set a large skillet over medium high heat. Add the olive oil and swirl in the pan. Add the onion, rosemary and a generous pinch of salt. Cook the onion, stirring from time to time, until the slices are tender brown, and caramelized, about 10 minutes.
While the onion cooks prepare the dough. Lightly flour your work surface, and use a rolling pin to roll out the dough to an 11 x 15-inch rectangle. Transfer the dough to the baking sheet. Moisten the perimeter of the dough with a little water using the tip of your finger. Fold the edge of the dough over to form a 3/4-inch wide border.
Lay the cooked onion slices over the surface of the tart, within the border. Scatter the cheese over the onion and lay the arugula on top.
Cut each pear off of it's core in 4 cuts. Lay the pear pieces flesh-side down on a cutting board and cut into thin slices (1/16-inch). Arrange the slices in two rows down the length of the tart, overlapping about a 1/4-inch. Add a small pinch of salt over the pears and put in the oven to bake.
Bake the tart until the pastry is golden brown all over, 20 to 25 minutes. Peek in the oven once or twice during baking. If a section of dough puffs up notably, poke it with the tip of a knife to deflate.
Remove from oven, let cool for a few minutes, and serve.
Makes 10-12 servings as an appetizer.
NUTRITION
Serving Size: 1 piece
Calories: 261 (Calories from Fat: 171)
Carbohydrate: 17.3g - 6%
Dietary Fiber: 1.1g - 4%
Protein: 6.2g