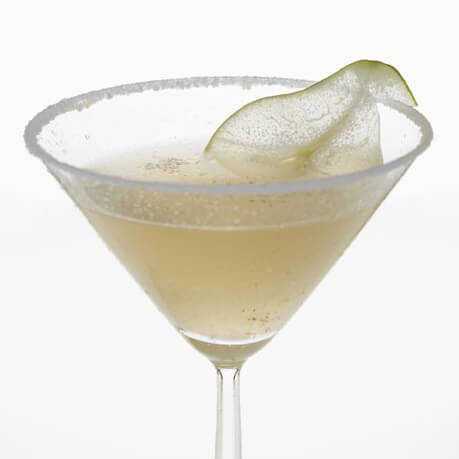 Fresh Green Anjou pears are put on the pedestal they belong in this flavorful libation. Handcrafted Pinot Gris syrup adds another layer of complexity that balances the drink with a subtly dry finish. Created by Kelley Swenson of Portland, OR.
INGREDIENTS
Cocktail
1.5 ounces puree of fresh USA Green Anjou pear
1.5 ounces vodka
½ ounce Pinot Gris syrup (see recipe below)
½ ounce fresh squeezed lemon juice
¼ ounce pear liqueur, such as Clear Creek Pear Brandy or Aqua Perfecta Pear Eau de Vie
Pear slice for garnish
Pinot Gris Syrup
1 cup Pinot Gris wine
1 cup granulated sugar
DIRECTIONS
For syrup: Combine Pinot Gris and sugar in a small saucepan. Bring just to a simmer and stir until sugar dissolves. Cool. Refrigerate until cold.
For cocktail: Combine all cocktail ingredients in a shaker with 2-3 ice cubes. Shake 30 seconds until thoroughly chilled. Strain into a glass and serve immediately garnished with a paper thin pear slice.
This recipe is for adults aged 21 and over.  Please drink responsibly.
NUTRITION
Serving Size: 4.25 oz
Calories: 200
Carbohydrate: 24g
Dietary Fiber: 1g
Protein: 0g