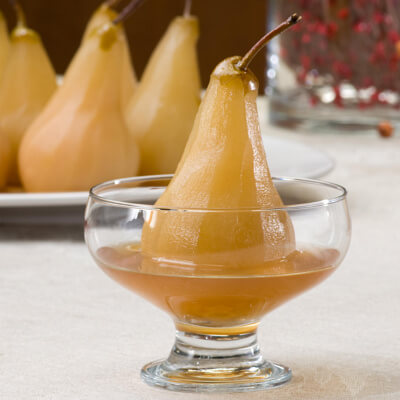 TAZO Spicy Ginger-Poached Pears
Spoon any extra sauce over scoops of vanilla ice cream or frozen yogurt, or serve as a syrup with hot pancakes or waffles. Substitute Tazo Passion Herbal Infusion filterbags for a fruity twist. Recipe provided courtesy of www.kraftfoods.com and reproduced with permission by Pear Bureau Northwest.
INGREDIENTS
1 ¼ quarts (5 cups) water
2 cups sugar
1 tablespoon crystallized ginger
5 filterbags Tazo Organic Spicy Ginger Herbal Infusion
2 star anise
¼ fresh lemon
4 pears (2 pounds), peeled, cored
DIRECTIONS
Mix water, sugar, and ginger in medium saucepan. Add filterbags, star anise, and lemon. Bring to boil on medium-low heat. Add pears; partially cover. Simmer 45 to 50 minutes or until pears are tender.
Remove pears from liquid; place in 4 dessert dishes. Bring liquid to boil; cook 30 minutes or until liquid is reduced to 1 ½ cups. Remove and discard filterbags, star anise and lemon.
Drizzle 2 tablespoons sauce over each pear. Refrigerate remaining sauce for another use.
To make it more delicate and fruity substitute Tazo Passion Herbal Infusion filterbags.
NUTRITION
Serving Size: 1 Pear (180g)
Calories: 120
Carbohydrate: 31g
Dietary Fiber: 6g
Protein: 1g