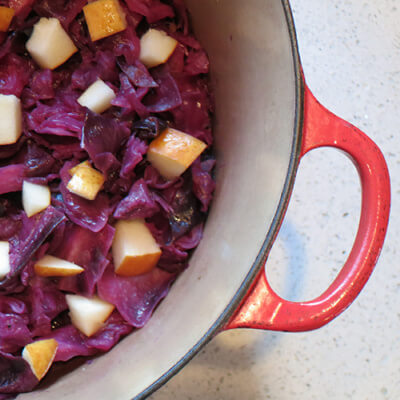 Tangy Braised Cabbage with Pears
Here is a great side dish for winter dinner menus. If it has never occurred to you to use cabbage for anything other than coleslaw, give this recipe a try. The cabbage becomes wonderfully tender as it cooks, and the tang from the balsamic vinegar alongside the sweetness of the pears is really a thing to behold. This dish is excellent alongside a whole roasted chicken or with Braised Pork with Pears and Sherry Vinegar.
INGREDIENTS
2 tablespoons butter
1 medium sweet onion, halved, peeled, and cut into thin half-rings
1 medium head red cabbage, cored and cut into approximately 2 inch pieces
Salt and freshly ground black pepper
½ cup dry white wine
3 tablespoons balsamic vinegar
1 bay leaf
2 firm ripe USA Pears, such as Bosc or Anjou
DIRECTIONS
Melt the butter in a large, heavy-bottomed pot over medium heat. Once foamy, add the onions and sauté until just beginning to brown, about 5 minutes. Add all of the cabbage to the pot and season generously with salt and pepper. Sauté the cabbage, stirring often, until softened and glossy, about 5 minutes more. Add the wine and continue to cook until it has mostly evaporated, again, about 5 minutes. Add the balsamic vinegar and the bay leaf, stir, and cover the cabbage, reducing the heat to low. Cook the cabbage for 45 minutes, setting a timer to remind you to stir it every 15 minutes. After 45 minutes, cut the pears into a medium dice and add them to the pot. Stir and cover, cooking 15 minutes more. Check the seasoning of the dish, adding salt, pepper, or a little more vinegar if necessary. Serve the cabbage hot.
NUTRITION
Serving Size: 1 Cup
Calories: 210
Carbohydrate: 22g
Dietary Fiber: 4g
Protein: 4g
---
2 Comments » for Tangy Braised Cabbage with Pears