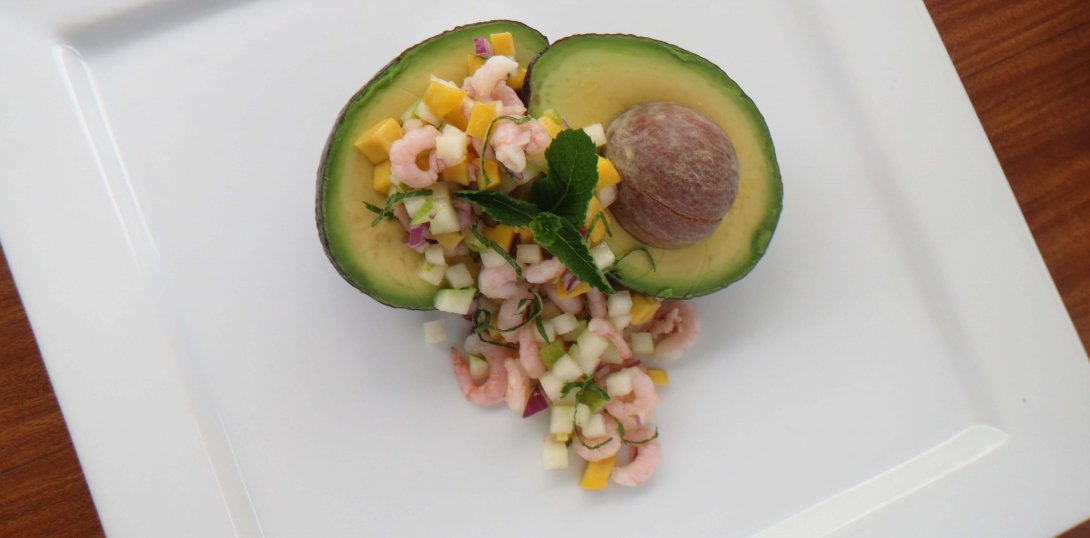 Stuffed Avocado with Bay Shrimp, Pear, and Mango
This stuffed avocado recipe is both simple and elegant. Begin with sweet and salty bay shrimp, and add uniquely crunchy Anjou pears and tropical, ripe mango to provide great texture and flavor. Bright, fresh lime juice plays perfectly with the creamy, rich avocado, and a pop of fresh mint will bring it all together. Serve this salad for lunch on a warm day, or alongside some grilled meat at your next barbecue.
INGREDIENTS
8 oz. bay shrimp
¼ a red onion, finely minced
1 firm ripe USA Pear, such as Anjou, small dice
1 ripe mango, peeled and diced small
1 tablespoon freshly squeezed lime juice
2 teaspoons neutral oil, such as grapeseed
¼ teaspoon sea salt
1 small handful fresh mint leaves, torn
2 ripe avocados, halved and pitted
DIRECTIONS
In a medium bowl, combine the shrimp, onion, pear, mango, and lime juice and gently stir to combine. Add the oil and salt, and toss to coat. Gently mix in the torn mint at the last moment. Divide the mixture between the four avocado halves, filling the cavity and allowing the extra shrimp salad to overflow onto the plate. Serve immediately.
NUTRITION
Serving Size: 1 Half Avocado (193)
Calories: 200
Carbohydrate: 15g
Dietary Fiber: 6g
Protein: 9g