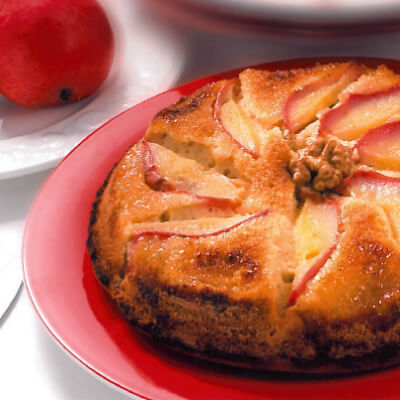 Starkrimson Pear Upside Down Cake
The rich flavors of the brown sugar and the fresh pears blend beautifully in this decadent cinnamon cake. Serve with coffee.
INGREDIENTS
10 tablespoons unsalted butter, softened, divided
½ cup brown sugar
4 Starkrimson USA Pears, peeled, cored, and wedged
1 tablespoon lemon juice
1 ½ cups flour
1 ½ teaspoons baking powder
½ teaspoon salt
½ teaspoon cinnamon
½ cup sugar
2 eggs
1 teaspoon vanilla
½ cup milk
Walnut to garnish
DIRECTIONS
Preheat oven to 350 degrees. Grease the bottom and sides of a round pan with 2 tablespoons of butter. Sprinkle with brown sugar.
Brush pear wedges with lemon juice and arrange in the bottom of pan.Combine flour with baking powder, salt, and cinnamon. Set aside.
Using an electric mixer, beat remaining butter with sugar until light and fluffy. Stir in eggs and vanilla. Add flour mixture and milk in alternating order slowly, beating over low speed after each addition. Spoon batter evenly over pears in pan.
Bake for 30 minutes or until toothpick inserted in the middle comes out clean. Let cool for 30 minutes before inverting over serving platter. Decorate with walnuts and serve.
NUTRITION
Serving Size: 1 Slice
Calories: 400
Carbohydrate: 59g
Dietary Fiber: 4g
Protein: 5g
---
3 Comments » for Starkrimson Pear Upside Down Cake