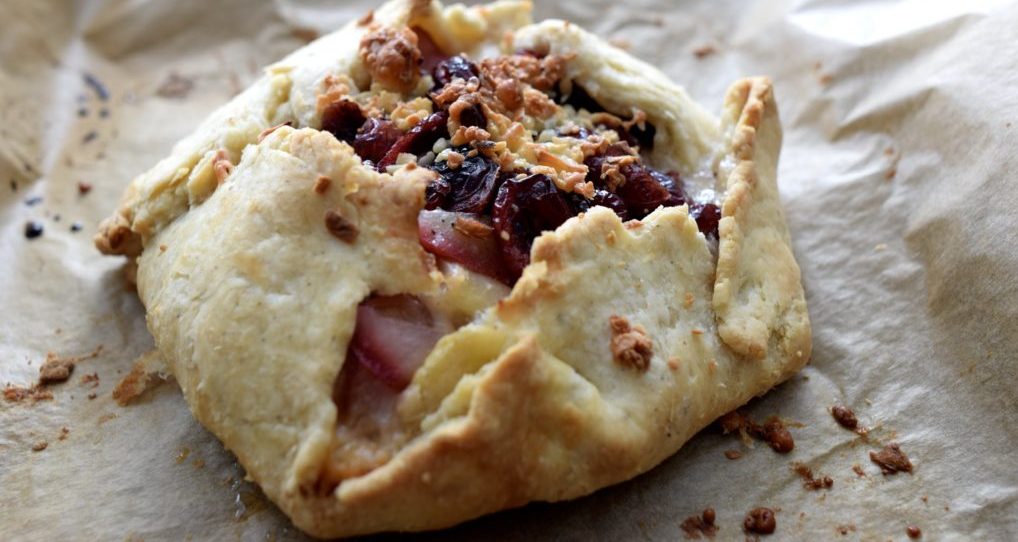 Spanish Manchego Pear Pepper Cardamom Cranberry Galette
Savory and sweet come together brilliantly in this classic pear dish with a Spanish twist. Recipe and photography by Craving4MORE.
INGREDIENTS
Crust:
8 Tbs. ice cold butter, cubed into 1″ pieces
1 large egg
1 Tbs. vinegar
2 cups all purpose flour
1 tsp. ground cardamom
2-3 Tbs. ice cold water
Filling:
2 Tbs. butter
2 large USA Anjou pears, thinly sliced
1/2 tsp. ground cardamom
1/4 tsp. sea salt
1 cup grated Manchego cheese
1 tsp. ground black pepper
1/2 cup sweetened dried cranberries
DIRECTIONS
Combine the butter, egg, vinegar, flour, and cardamom in the bowl of a food processor or Vita-Mix.
Pulse until crumbly.
Drizzle in just enough water to create a beady dough.
Transfer the beads to parchment paper and form into a mound and then a disc. Roll out into a 10″ rough round.
Preheat the oven to 425 degrees.
While the oven is heating, melt the butter in a large skillet. Add the pears and sauté 2-3 minutes, until just slightly soft. Add the cardamom and sea salt.
Drain the pears and transfer to the center of the pie crust.
Top with grated cheese, black pepper, and dried cranberries.
Fold over the edges and bake for about 25 minutes, until golden brown.
Cool to room temperature before serving with some delicious Spanish wine!
NUTRITION
Serving Size: 1 Slice (229g)
Calories: 710
Fat: 40g
Carbohydrate: 74g
Dietary Fiber: 6g
Protein: 15g