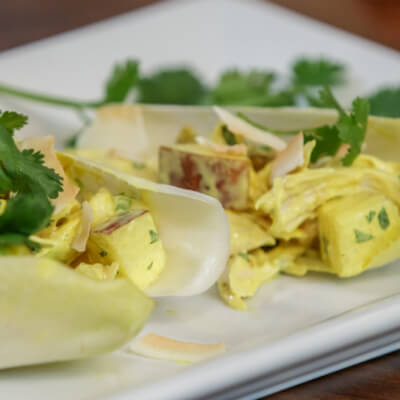 Curried Pear and Pulled Chicken Salad
The balance of sweet pears, crunchy cashews, and raisins with fragrant curry elevates chicken salad to a new level.
INGREDIENTS
1/3 cup low-fat or nonfat Greek-style yogurt
1/3 cup mayonnaise
1/4 cup chopped fresh cilantro, plus small sprigs for garnish
2 green onions, trimmed and thinly sliced
2 teaspoons curry powder, plus more to taste
3 cups shredded cooked chicken, chilled or at room-temperature
1 large, ripe pear, cored and cubed
1 large celery rib, thinly sliced
1/3 cup roasted cashews, coarsely chopped
1/4 cup raisins
Salt
1 head butter lettuce or 4 Belgian endives
1/2 cup unsweetened flaked coconut, toasted (see Note)
DIRECTIONS
Whisk together the yogurt, mayonnaise, cilantro, green onions, and curry powder in a large bowl. Add the chicken, pears, celery, cashews, and raisins and stir it all together. Add salt to taste and more curry powder, if desired. (The salad can be made up to 1 day ahead.)
Trim the core from the head of lettuce or endive and separate the leaves. Wash the cup-shaped leaves and blot dry in a kitchen towel. Fill each leaf cup with a spoonful of the chicken salad and top with coconut flakes and a cilantro sprig.
Note: Flaked coconut is sometimes labeled "coconut chips." It can be purchased pre-toasted, or spread in an even layer on a baking sheet and placed in a 350˚F oven until lightly browned.
NUTRITION
Serving Size: 10 oz
Calories: 500
Carbohydrate: 20g
Dietary Fiber: 4g
Protein: 36g