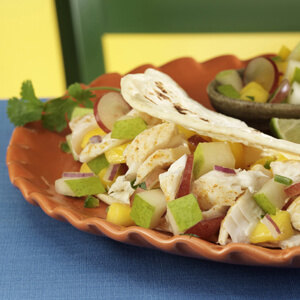 Spicy Fish Tacos with Pear Mango Salsa
Pear Mango Salsa adds a subtle, spicy-sweet flavor to these mouthwatering fish tacos. Different varieties of USA Pears add distinctly different flavors to this recipe. Try Green Anjou or Bosc pears, and experiment with a variety of fish fillets, too, like tilapia or tuna.
INGREDIENTS
¼ cup vegetable oil
¼ cup lime juice
1 teaspoon minced garlic
1 teaspoon ground cumin
½ teaspoon salt
½ teaspoon ground cayenne pepper
6 fish fillets (4 ounces each) fresh or frozen, thawed
⅔ cup USA Pears, cored, cut into ¼-inch cubes
½ cup mango, peeled, pitted, cut into ¼-inch cubes
½ cup sliced red grapes
1 tablespoon minced red onion
1 tablespoon minced jalapeno pepper, seeded
1 tablespoon chopped cilantro
½ teaspoon salt
12 (6-inch) flour tortillas
DIRECTIONS
Preheat oven to 350 degrees.
Whisk oil, lime juice, garlic, cumin, salt, and cayenne pepper in small bowl; set aside.
Place fish in single layer in 13 x 9 x 2-inch baking pan. Pour oil and lime juice mixture over fish and refrigerate 30 minutes.
Bake 20 to 25 minutes until fish is opaque and flakes with fork.
Mix pear, mango, grapes, onion, jalapeno, cilantro, and salt in small bowl.
Serve fish and salsa on warm tortillas.
NUTRITION
Serving Size: 2 Tacos
Calories: 410 (34% Calories from Fat)
Carbohydrate: 41g
Dietary Fiber: 2g
Protein: 24g