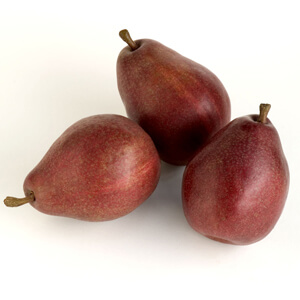 Southwest Chicken and Pear Salad
Surprisingly, the sweetness of the Comice pear adds dimension to this Southwest Chicken and Pear Salad combining ingredients you'd expect in a salsa. Anjou or Bosc pears can be substituted.
INGREDIENTS
3 Comice USA Pears, cored and quartered
3 tablespoons lemon juice
Lettuce leaves
12 ounces cooked chicken, thinly sliced
1 medium tomato, seeded and diced
1 cup seeded and diced cucumber
¼ cup chopped green chiles
¼ cup chopped onion
1 small clove garlic, minced
2 tablespoons chopped fresh cilantro
2 tablespoons olive oil
Salt and pepper to taste
Fresh cilantro leaves
DIRECTIONS
Dip pears in lemon juice; arrange on lettuce leaves with chicken slices. Combine remaining ingredients except cilantro leaves; spoon over pear halves and chicken. Garnish with cilantro leaves.
NUTRITION
Serving Size: 1 Salad
Calories: 208
Carbohydrate: 15.8g
Dietary Fiber: 2.5g
Protein: 17.3g