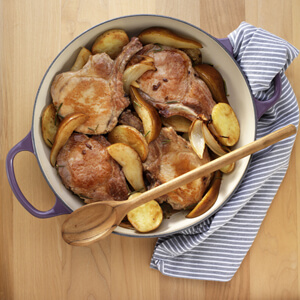 Pork Chops with Pears and Cider
Start your week off right with this delicious weeknight dinner of pork chops, potatoes, and sautéed pears. This dish will please the entire family—and it makes delicious leftovers, too!
INGREDIENTS
2 to 3 medium Yukon gold potatoes, sliced ½-inch thick
1 medium onion, root intact, cut in eighths
5 tablespoons extra virgin olive oil
6 cloves garlic
5 large rosemary sprigs
Salt and freshly ground black pepper
4 bone-in pork chops, ¾- to 1-inch thick, or 6 to 8 ounces each
2 large USA Pears, such as Bosc, Anjou, Red Anjou, or Concorde cored and cut in eighths
¾ cup pear or apple cider
½ cup vegetable stock
1 tablespoon unsalted butter
DIRECTIONS
Preheat the oven to 425 degrees. In a large bowl, toss the potatoes and onions with 2 tablespoons of the olive oil, 3 whole garlic cloves, and the leaves from a sprig of rosemary. Spread the vegetables in a single layer on a baking sheet. Bake 20 to 30 minutes, or until potatoes are light brown and tender when pierced with a fork.
While the potatoes and onions are in the oven, thinly slice the remaining 3 cloves of garlic. Heat the remaining 3 tablespoons olive oil, sliced garlic, and 4 rosemary sprigs over medium heat in a large cast iron skillet or other heavy-bottomed frying pan. Sauté until the garlic is lightly golden and the olive oil is infused with flavors of garlic and rosemary. Remove the garlic slices and set aside. Discard the rosemary.
Season the pork chops with salt and freshly ground black pepper. Return the skillet to the stove and heat the infused oil in pan over high heat. Arrange the chops in the pan and sear until nicely browned, 1 to 2 minutes. Turn the chops and brown on the second side, 1 to 2 minutes longer. Add the pears to the pan, lower the heat, and continue cooking until pears become tender and lightly brown and the chops cooked through, about 10 minutes. Remove the chops and pears from the pan and pour all but 1 tablespoon of oil from the pan.
Pour the cider in the pan and reduce by half over medium high heat, continuously scraping the bottom of the pan to remove any browned bits. Add the stock and reduce by half again. Add the butter, stirring until melted, and season to taste with salt and pepper. Return the pears to the pan.
To serve, place a chop on each of four plates, next to some roasted potatoes and onions. Spoon the pan sauce and several wedges of pear over each chop. Garnish with fresh rosemary leaves if desired.
NUTRITION
Serving Size: 18 oz
Calories: 560 (43% Calories from Fat)
Carbohydrate: 45g
Dietary Fiber: 6g
Protein: 33g