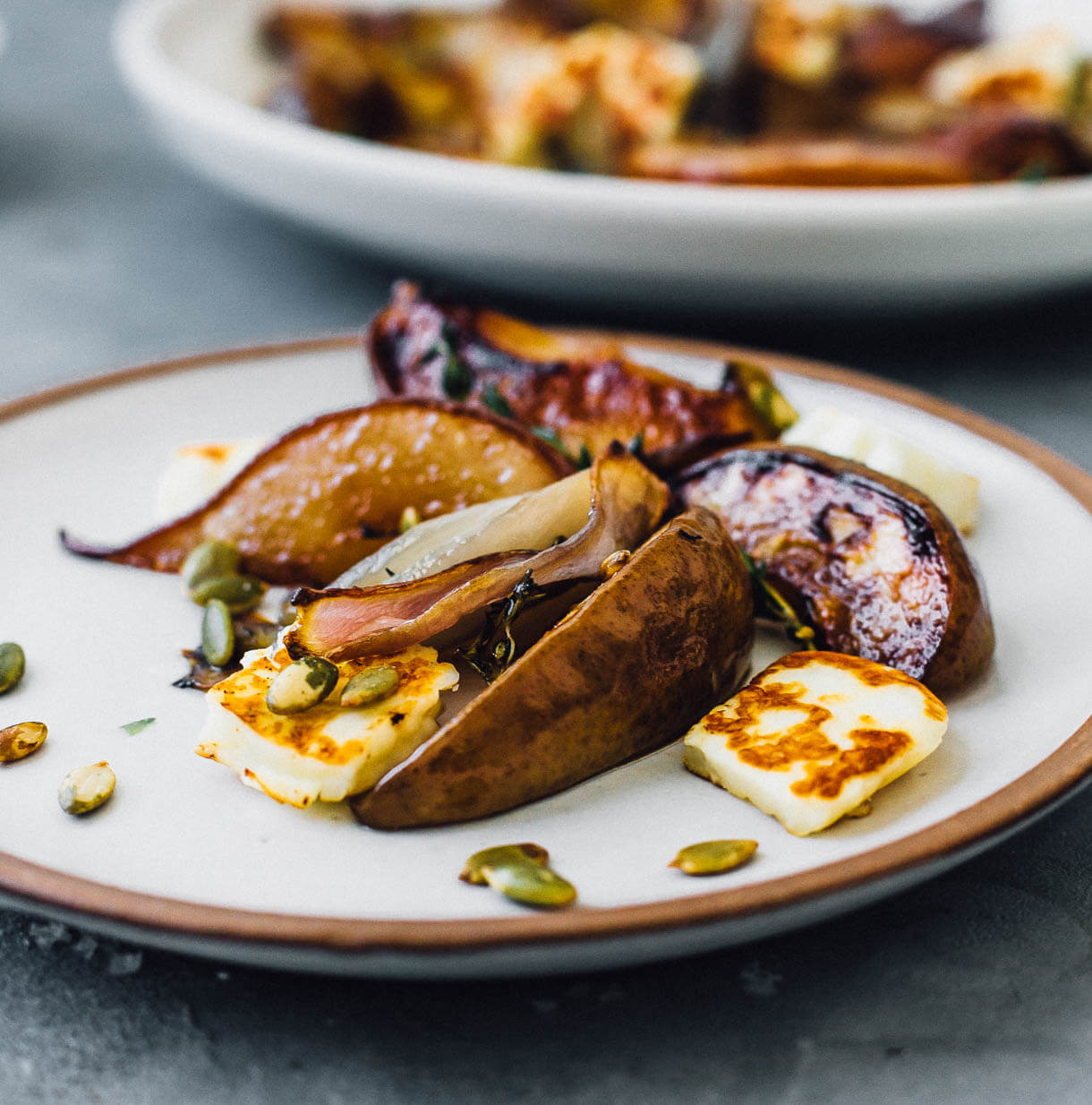 Savory Roasted Pears and Red Onions with Halloumi Cheese
This simple side dish marries sweet Bosc and Anjou pears, onion and thyme with creamy brined halloumi cheese, making for a delectable combination of salty and sweet. Recipe by Amanda Paa (Heartbeet Kitchen).
INGREDIENTS
3 medium sized green Anjou or Bosc pears, cut in half vertically, seeds removed
1 medium red onion, cut in wedges
4 sprigs fresh thyme
1/4 teaspoon fine sea salt
3 tablespoons olive oil
1- 1/2 tablespoons maple syrup
6 ounces halloumi cheese, cut into 1/2-inch thick slices
1/4 cup toasted pepita seeds
DIRECTIONS
Preheat oven to 340 degrees F. Take pear halves and cut vertically into quarters. If they are quite large, halve again vertically. Place in a 9×13 baking pan, along with the wedges of red onion. Add thyme, and sprinkle salt over everything. Pour olive oil and maple syrup over everything, and gently toss with hands to coat all.
Bake for 25 minutes, then turn ingredients over. Bake for another 20 minutes, until ingredients are browned and caramelized. Remove from oven, and discard thyme sprigs.
Heat a non-stick skillet to medium high. Add slices of halloumi and cook for 1-2 minutes on each side, until browned and soft. Add halloumi to pan and toss with other ingredients. Empty onto a serving plate and toss with toasted pepita seeds. Serve.
Leftovers will keep in the refrigerator for up to 3 days.
NUTRITION
Serving Size: 6.5 oz
Calories: 220
Fat: 19g
Carbohydrate: 27g
Dietary Fiber: 5g
Protein: 10g
---
1 Comment » for Savory Roasted Pears and Red Onions with Halloumi Cheese