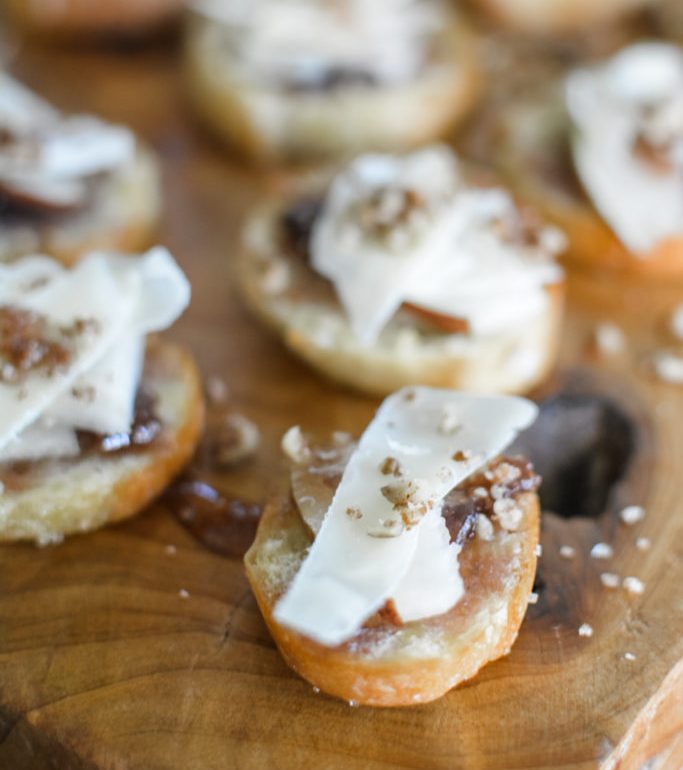 Fall Bruschetta with Pears, Balsamic Fig Jam, Pecorino-Romano Cheese and Toasted Pecans
This appetizer is about as easy as it comes, but doesn't skimp on flavor. Made with delicious Red Anjou pears, this recipe is sweet, tart, and salty. (All of my favorite flavor combinations.) Red Anjou Pears are the perfect accompaniment to this bruschetta due to their texture (somewhat soft and juicy) and on the sweet side. When they are paired with salty Pecorino-Romano cheese, sweet and tart balsamic figs, and savory toasted pecans the flavors come together perfectly. Recipe and photography by Lou Lou Sucre.
INGREDIENTS
1 baguette of French bread
1 tbsp olive oil for drizzling
1 Red Anjou pear, sliced thinly
¼ cup Balsamic Figs, plus juice for drizzling
2 oz shaved Pecorino-Romano cheese
1 tbsp chopped pecans, toasted
For the balsamic figs:
6 cups figs
½ cup water
3 cups sugar
2 tbsp freshly squeezed lemon juice
1 cup balsamic vinegar
DIRECTIONS
Preheat the oven to 350℉.
Place the sliced baguette on a baking sheet and drizzle with the olive oil. Brush to coat the bread. Toast for 5-7 minutes or until the bread is lightly toasted and golden brown.
Top each slice of bread with a little of the balsamic figs, a slice of pear, a few shavings of Pecorino-Romano cheese. Top with toasted chopped pecans. Drizzle a little more of the balsamic fig sauce on top.
To make the balsamic figs:
Finely chop the figs. In a large pot, add the figs, water, sugar, balsamic vinegar, and lemon juice. Bring to a boil and allow the mixture to boil for 1 minute. Reduce the heat and allow the mixture to simmer for about 30 minutes or until it starts to thicken. (The figs should be macerated and the sauce thick.)
Ladle immediately into prepared jars, filling to within 1/4 inch of tops. Wipe the jar rims and threads. Cover with two-piece lids. Screw bands tightly. Place jars on elevated rack in canner and cover with boiling water. Process for 10 minutes. Remove from water and let sit on a clean towel in a dark, cool place.
The balsamic figs will be good in a cabinet for up to 1 year unopened or 1 month in the refrigerator opened.
NUTRITION