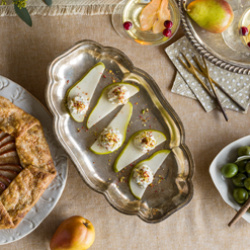 Pear Slices with Goat Cheese, Pistachios, and Pink Peppercorn
Pear Slices with Goat Cheese are garnished with Pistachios and Pink Peppercorn in this delightfully pleasing hors d'oeuvres.
INGREDIENTS
4 ounces fresh goat cheese, softened at room temperature
3 to 5 tablespoons heavy cream
1/3 cup finely chopped pistachios
3 tablespoons minced fresh chives
2 teaspoons ground pink peppercorns, plus more for garnish
2 teaspoons finely grated orange zest
Salt and freshly ground pepper
2 teaspoons Fruit Fresh® Produce Protector
2 ripe Green Bartlett USA Pears
DIRECTIONS
With an electric mixer or a sturdy fork, mix the goat cheese with enough cream to get a smooth spread. Mix in about half of the pistachios, the chives, ground pink peppercorns, orange zest, and salt and pepper to taste. Refrigerate until served, up to 3 days.
Just before serving, mix the Fruit Fresh with 3 tablespoons water. Halve the pears, scoop out the core, trim the stems and cut lengthwise into 1/8-inch-thick slices. Brush or toss the slices with the Fruit Fresh mixture.
Arrange the pear slices on a serving platter and put a dollop of the goat cheese mixture on the wide end of each. Sprinkle with more of the pistachios and ground pink peppercorn. Serve immediately.
NUTRITION
Serving Size: 3 Slices (57g)
Calories: 110
Carbohydrate: 7g
Dietary Fiber: 2g
Protein: 4g