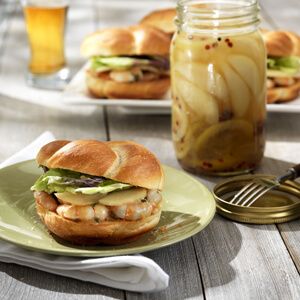 Sauteed Shrimp on Brioche with Pickled Pears and Gem Lettuce
Celebrity Chef Sam Talbot lets the pears do the talking in this recipe that's perfect for any casual or elegant soiree. House-pickled pears sing with sweet-spicy flavor atop sautéed shrimp. Served on buttery brioche, this is a sandwich with a pear-tastic twist.
INGREDIENTS
Pickled Pears
¾ cup granulated sugar
½ cup champagne vinegar
½ cup water
1 teaspoon whole cloves
3 cinnamon sticks
¼ cup pickled ginger, coarsely chopped
1 tablespoon pink peppercorns
1 lemon, sliced
3 firm, ripe Bartlett USA Pears, peeled, and sliced into thin wedges, about ¼-inch thick
Sautéed Shrimp
2 tablespoons unsalted butter
2 tablespoons olive oil
2 garlic cloves, finely chopped
2 shallots, finely chopped
24 large shrimp (16-20), peeled, deveined and tail removed
2 to 3 tablespoons white wine
1 lemon, juiced and zested
¼ cup low sodium chicken broth
¼ cup chopped fresh basil
Sea salt and freshly ground black pepper
Sandwiches 
6 brioche buns, grilled or lightly toasted
6 leaves Gem lettuce, washed and completely dry
Homemade or good quality mayonnaise
DIRECTIONS
For the pickled pears: Combine the sugar, vinegar, water, cloves, cinnamon sticks, pickled ginger, pink peppercorns and sliced lemon in a nonreactive saucepan. Stir once to combine and bring the mixture to a boil over medium high heat. Reduce heat to low and simmer 10 minutes. Chill completely, pour over the pears and refrigerate at least six hours before serving. Pears will keep up to one week in well-sealed jar.
For the sautéed shrimp: Heat the butter and oil over medium heat in a nonreactive heavy-bottomed sauté pan until bubbly. Add the garlic and shallots, stir and cook for 30 seconds. Add the shrimp, raise the heat and sauté for 2 minutes, or until the shrimp begin to turn pink. A light, crispy coating will form on the outside. Add a splash of wine to the pan, deglaze and remove the shrimp.
Add the lemon juice and zest along with the chicken broth. Stir and cook over high heat until the sauce thickens slightly, 2 to 3 minutes. Remove from heat, season with salt and pepper to taste, add chopped basil and return the shrimp to the pan to keep warm.
To serve: Spread about 1 teaspoon mayonnaise on each top bun and cover with a lettuce leaf. Place 4 shrimp and some sauce on each of the bottom buns and top with several pickled pear wedges.
NUTRITION
Serving Size: 1 Sandwich (271g)
Calories: 740
Carbohydrate: 80g
Dietary Fiber: 2g
Protein: 27g