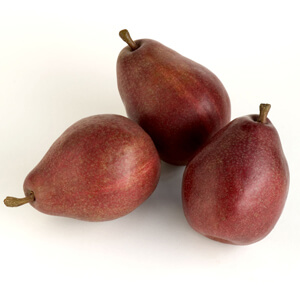 This is a wonderful medley of flavors, combining fresh NW grown chicken, the tang of Swiss Cheese and the subtle sweetness of pear. When you pair them all together, it adds up to a wonderful flavor combination. Of course, fresh Franz buns make it an extra special treat!
INGREDIENTS
1 boneless, skinless chicken breast, pounded flat (or ground chicken or turkey)
Salt and pepper to taste
1 slice Swiss cheese
1 Bartlett USA Pear, cored and cut into ¼-inch slices
Franz buns
DIRECTIONS
Preheat your gas or pellet grill on high for at least 15 minutes. If using a charcoal grill, wait until the briquettes ash over.
Season chicken breast with salt and pepper on both sides. Grill chicken breast until done, turning once, about 8 minutes per side.
After turning the chicken breast over, place cheese slice on top during the last 4 minutes of cooking. Just before removing chicken breast from the grill, grill the pear slice, about 2 minutes per side.
Place chicken breast on your favorite Franz bun, add pear slice and condiments. Enjoy!
NUTRITION
Serving Size: 1 Burger (409g)
Calories: 610
Carbohydrate: 49g
Dietary Fiber: 7g
Protein: 66g