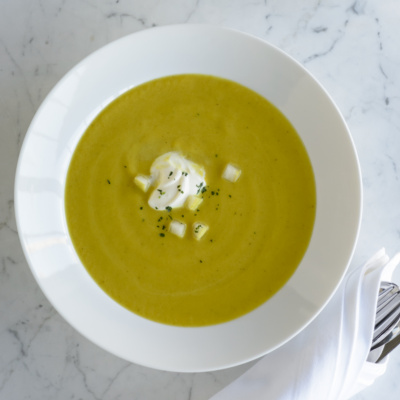 Curried Butternut Squash and Pear Bisque
This soup by renowned 
Chef Vitaly Paley
 is easy to make, as it uses water instead of stock. Water lets the squash realize its full potential here. Pears, winter squash, and apple cider all appear on farm stands at about the same time, and their varying degrees of sweetness have a natural affinity for one another. Curry powder adds an exotic kick and helps balance the sweetness of the other ingredients.
INGREDIENTS
¼ cup extra-virgin olive oil
1 large onion, halved and thinly sliced
1 ½ pounds butternut squash, peeled, seeds and strings scooped out, and cut into 1-inch cubes
1 large USA Pear, preferably Bosc, peeled, halved, cored, and coarsely chopped
Kosher salt and freshly ground black pepper
4 ½ teaspoons mild curry powder
1 cup apple cider
3 cups water
1 cup heavy cream
Crème fraîche, for garnish
Dill sprigs, for garnish
DIRECTIONS
In a 6-quart soup pot, heat the olive oil over medium heat. Sauté the onion, stirring frequently, until soft, about 5 minutes. Add the squash and pear and season with salt and pepper. Decrease the heat to low and cook, stirring occasionally, until the squash softens and slightly caramelizes, about 15 minutes.
Add the curry powder and continue stirring for 1 minute to let the curry flavors bloom. Pour in the apple cider. Increase the heat to medium, add the 3 cups water, and simmer until the squash is completely cooked through, about 30 minutes.
Stir in the cream and return the soup to a simmer. Season with salt and pepper. In batches, carefully liquefy the hot soup in a blender.
To serve, pour the soup into bowls and garnish with a dollop of crème fraîche and dill sprigs.
This soup can be made a day in advance, cooked in an ice-water bath, and refrigerated overnight.
A Note from Chef Vitaly Paley
I always season long preparations like soups or stews at the beginning of the cooking and adjust to taste at the end. Seasoning early means the salt and pepper get absorbed more evenly for a more balanced and uniform flavor.
Get more delicious recipes from Chef Paley with The Paley's Place Cookbook, which you can purchase from Amazon.com
NUTRITION
Serving Size: 1 Cup
Calories: 330 (Calories from Fat: 65%)
Carbohydrate: 29g
Dietary Fiber: 5g
Protein: 3g
---
1 Comment » for Curried Butternut Squash and Pear Bisque