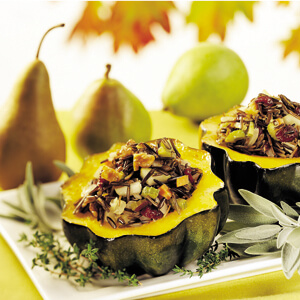 Acorn Squash Stuffed with Pear Wild Rice and Walnuts
Savor the flavor of the fall harvest with this pear stuffed squash recipe! Fresh pears are sautéed with savory vegetables and combined with wild rice to fill roasted squash halves. Substitute chicken broth with vegetable broth to make this a vegetarian entrée.
INGREDIENTS
3 acorn or dumpling squash
Salt and freshly ground pepper, to taste
Freshly ground nutmeg, to taste
4 tablespoons (½ stick) unsalted butter, at room temperature, divided
¾ cup wild rice
1 ½ cups canned low-sodium chicken or vegetable broth
¼ teaspoon salt, plus extra to taste
2 tablespoons olive oil
1 medium yellow onion, finely chopped
1 large clove garlic, minced
1 large rib celery, finely chopped
1 large carrot, peeled and finely chopped
2 firm Bosc or Anjou USA Pears, peeled, halved lengthwise, cored, and cut into ½-inch dice
2 teaspoons minced fresh sage
2 teaspoons minced fresh thyme leaves
⅓ cup minced fresh parsley
⅓ cup chopped walnuts, toasted (see Cook's Note below)
⅓ cup sweetened dried cranberries
DIRECTIONS
Preheat the oven to 350 degrees. Cut each squash in half crosswise. Scoop out and discard the seeds and strings. If necessary, trim the top and bottom so that the squash will sit level, and place on a rimmed baking sheet, cut side up. Sprinkle each half with a little salt, pepper, and nutmeg, to taste. Using 3 tablespoons of the butter, dot each half with some butter. Cover the pan tightly with foil and bake the squash just until moist and tender, about 45 minutes.
Meanwhile, combine the rice, chicken broth, ¼ teaspoon salt, and 2 cups of water in a medium saucepan. Bring to a boil over medium-high heat. Reduce the heat to a low simmer, partially cover, and cook, stirring occasionally, until the rice is tender, about 40 minutes. When the rice is done most of the water should be evaporated.
In a 10-inch sauté pan, heat the olive oil over medium heat. Swirl to coat the pan and sauté the onion, garlic, celery, and carrot until slightly softened, about 3 minutes. Add the pears and sauté 2 minutes longer. Cover the pan, adjust the heat to medium-low, and cook the vegetables until crisp-tender, 3 minutes longer. Add the sage, thyme, and parsley and sauté 1 more minute. Remove from the heat.
In a large bowl, combine the cooked rice, sautéed vegetables, pears, walnuts, and dried cranberries. Taste and add salt and pepper, if desired. Mound the rice mixture into the squash halves, dividing it evenly. Cut the remaining tablespoon of butter into small pieces. Dot each stuffed squash with butter. Cover with foil. Bake until heated through, about 20 minutes.
Cook's Note: Toasting nuts brings out their full, rich flavor. Place the nuts in a single layer on a rimmed baking sheet and bake in a preheated 350 degree oven until lightly browned, about 5 to 8 minutes.
NUTRITION
Serving Size: 1 Half Squash
Calories: 400
Carbohydrate: 56g
Dietary Fiber: 8g
Protein: 8g