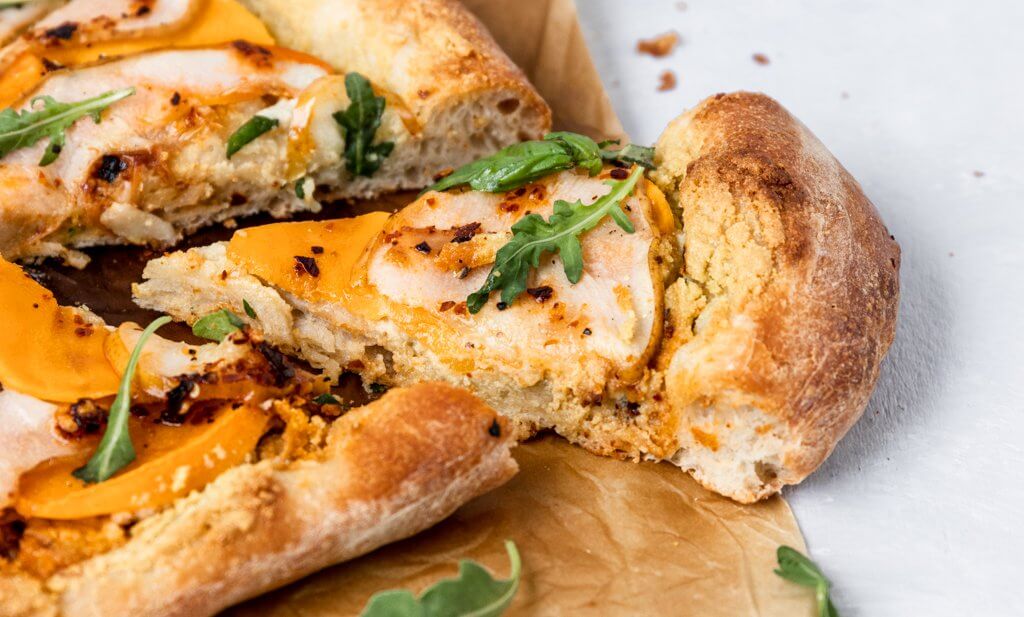 Vegan Butternut Squash, Pear, and Chili Oil Pizza
The perfect vegan pear pizza topped with a creamy garlic cashew sauce, Bartlett pears, butternut squash, a drizzle of chili oil, fresh arugula, and basil! Recipe development and photography by ShortGirlTallOrder (https://shortgirltallorder.com/)
INGREDIENTS
Garlic cashew sauce
1/2 cup raw cashews (*soaked for 4–6 hours)
1 large garlic clove (*or 2 small cloves)
1/4 cup water
2 Tbsp nutritional yeast
salt & pepper to taste
Pizza ingredients
16 oz pizza dough
1/2 Bartlett pear (*about 1/2 cup thinly sliced)
1/4 butternut squash (*about 1/2 cup thinly sliced)
2–3 tsp chili oil (*or 2.5 tsp oil with 1/2 tsp of chili flakes mixed in)
salt & pepper to taste
1/4 cup fresh arugula
5–6 leaves fresh basil, torn
DIRECTIONS
Soak your cashews for 4-6 hours before making the pizza. When ready, add your pizza stone to the oven and preheat the oven to 450F.
First, make the garlic cashew sauce. Soak your cashews for 6 hours in water to soften. After soaking, add the cashews to a blender and blend for 30 seconds. Then, add in the garlic, water, salt, pepper, & nutritional yeast. Blend until smooth and set aside.
Before rolling out your pizza dough, lightly flour the surface. Then, roll the dough into your desired shape. Remove the pizza stone from the oven and add the pre-shaped dough on top.
Add the garlic cashew sauce to the dough and use a spatula to smooth evenly across the pizza (without covering the crust). Then, layer on the butternut squash and Bartlett Pear slices. Finally, drizzle with chili oil & season with salt and pepper.
Add the pizza to the oven and bake for 14-16 minutes until the crust is browned and crisp. Let the pizza cool slightly then top with fresh arugula and basil. Enjoy!
Notes:
*You will need to soak the cashews for 4-6 hours before making the cashew garlic sauce and prepping the recipe
NUTRITION
Serving Size: 1 Slice (87g)
Calories: 220
Fat: 7g
Carbohydrate: 32g
Dietary Fiber: 2g
Protein: 8g
---
2 Comments » for Vegan Butternut Squash, Pear, and Chili Oil Pizza