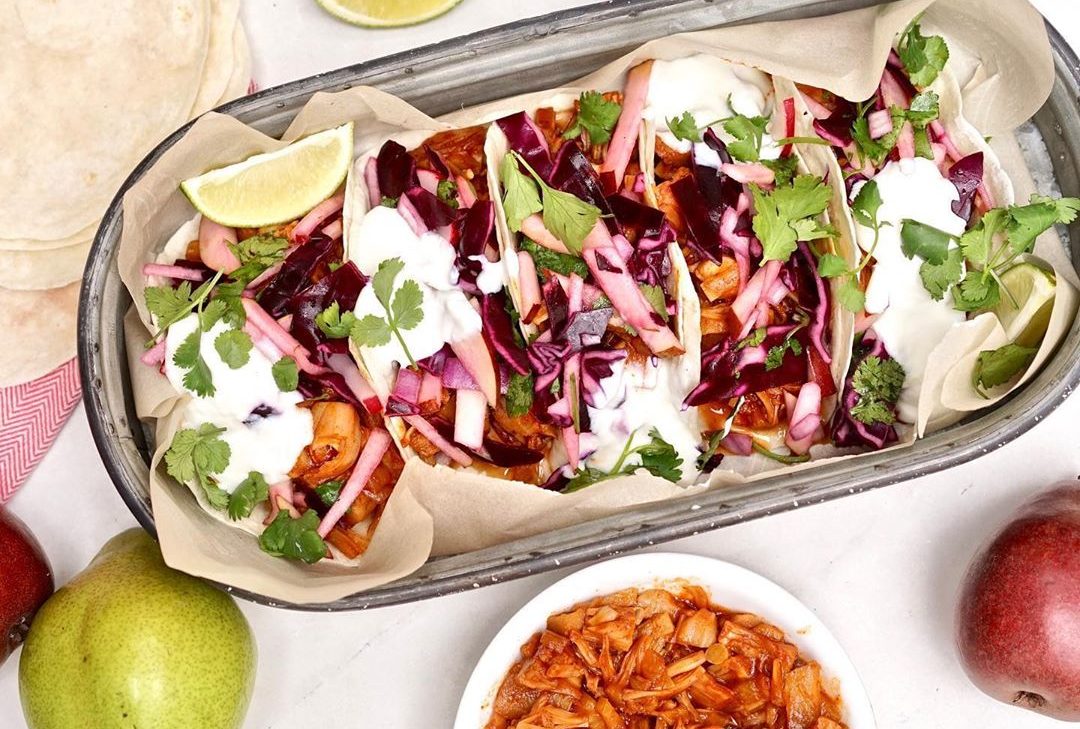 There's nothing like lounging outside with some beer and tacos, especially after a long couple of months being in the house. It's a great time to switch to a more plant-based diet, for your wallet and your health, and pears are the perfect partner for meat substitutes like jackfruit! Recipe by Abby Langer (@langernutrition)
INGREDIENTS
Jackfruit Pear Filling
2 20-oz cans jackfruit in brine (not the ripe sweet type in syrup)
3/4 cup chopped yellow onion
1 green Anjou pear, sliced into thin slices and then chopped lengthwise
1 cup of barbeque sauce
1 cup of water or broth
2 tablespoons neutral oil
Pear and Cabbage Slaw
2 cups chopped red cabbage
1 red Anjou pear chopped or sliced
Handful cilantro, washed, stemmed, and chopped
1/2 cup chopped red onion
2 radishes chopped
Juice of one lime
2 tablespoons neutral oil
1 tablespoon apple cider vinegar
1 tablespoon honey
Salt and pepper to taste
DIRECTIONS
Prep the jackfruit:
Drain the can of jackfruit and empty into a bowl.
Cut the point off each piece of jackfruit and discard. Shred the wide section of each piece into a colander. Rinse the shredded pieces well, and set aside to drain.
In a small bowl, whisk the oil, vinegar, honey, and lime juice together. Pour over remaining slaw ingredients and toss to coat.
Heat oil in large pan.
Add onions, and cook on medium heat until soft, but not browned.
Add shredded jackfruit, Anjou pear, BBQ sauce, and water.
Simmer filling until jackfruit and pears are tender, around 20 minutes.
Serve the tacos with your fave toppings.
NUTRITION