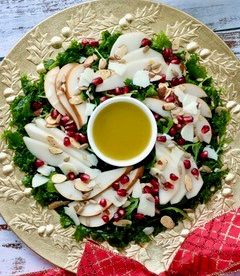 Christmas Pear and Kale Salad
With a bright lemony dressing and dazzling superfood colors, textures and flavors this fresh pear and kale salad with be a feast for your eyes and party in your mouth. Recipe and photography by Good Grief Cook.
INGREDIENTS
Dressing
½ cup extra virgin olive oil
2 tablespoons fresh lemon juice, (1 lemon)
1 tablespoon honey
½ teaspoon fine sea salt
¼ teaspoon freshly ground black pepper
Salad
6 cups torn kale leaves
¼ cup baby arugula
2 USA Pears, sliced
¼ cup honey glazed sliced almonds (or nuts of your choice)
¼ cup pomegranate seeds
2 tablespoons roasted sunflower seeds
Shards of manchego cheese
DIRECTIONS
Combine all dressing ingredients in a jar with a screw top lid; shake to blend.
Place kale in a large bowl. Drizzle kale with a tablespoon or two of dressing. Massage kale with your hands for 1 to 2 minutes or until it becomes tender and a deeper green in color.
Pour remaining dressing into a small serving bowl and place in center of a large round serving plate. Arrange kale around the bowl on the plate forming a wreath.
Top with arugula, sliced pears, almonds, pomegranate seeds and cheese.
Spoon dressing over salad just before serving.
Serves 4 to 6 as a side dish.
NUTRITION