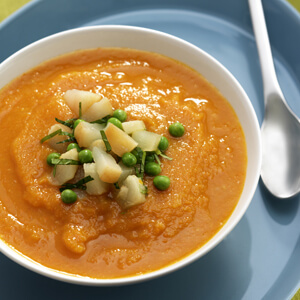 Roasted Pear Relish with Carrot and Fennel Soup
This gorgeous, delicious recipe was created by Chef Brian Scheehser of Trellis Restaurant in Kirkland, Washington.
INGREDIENTS
Pear Relish
3 Bosc or Bartlett USA Pears, peeled, cored, and halved
2 teaspoons extra virgin olive oil
2 teaspoons sugar-in-the-raw
2 teaspoons pear vinegar or white balsamic vinegar
¼ cup fresh shelled peas, blanched (or frozen peas, thawed)
¼ cup mint leaves, cut into thin strips
Mint leaves for garnish
Carrot and Fennel Soup
1 pound carrots (about 5), peeled and chopped
1 fennel bulb, chopped
1 yellow onion, chopped (1 cup)
1 medium russet potato, peeled and chopped
2 cups reduced sodium chicken broth
1 cup fresh carrot juice
1 cup pear juice
½ cup white wine
Salt and fresh ground black pepper
DIRECTIONS
Preheat oven to 375 degrees.
Place pears cut side down in a large oven-proof skillet. Drizzle pears with olive oil and sprinkle with sugar. Bake 15 minutes or until just barely tender. Remove pears and cool to room temperature then dice into ¼-inch pieces. Add vinegar to pan, stirring to deglaze any browning on pan. Gently combine pears, peas, and mint with the liquid in pan. Set aside at room temperature until ready to serve.
While pears are roasting, prepare soup: Place all soup ingredients in a deep saucepan. Bring to a boil, reduce heat, cover and cook until vegetables are soft. Transfer about half the mixture to a food processor or blender; process until smooth. Repeat with remaining soup. Season to taste with salt and a little pepper.
Serve soup in bowls topped with a generous portion of pear relish. Garnish with mint leaves.
yield: Makes 6-8 servings, about 6 cups soup, 2 cups relish
NUTRITION
Serving Size: 8 oz
Calories: 220
Carbohydrate: 46g
Dietary Fiber: 8g
Protein: 4g