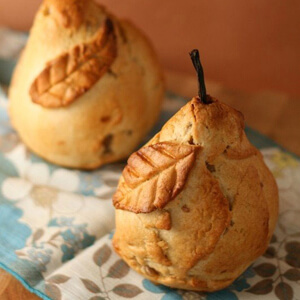 Baked Pear Parcels with Lemon Chamomile Sauce
These beautiful pear parcels are deceivingly simple to make. Serve with lemon chamomile sauce, ice cream, or whipped cream.
INGREDIENTS
Crust
4 ounces all-purpose flour
4 ounces butter
¼ cup sugar
Pinch of salt
⅛ teaspoon vanilla extract
Pears
2 ripe but firm Bosc USA Pears
3 tablespoon walnuts
2 tablespoons brown sugar
1 tablespoon flour
Lemon Chamomile Sauce
1 ½ cups water
2 chamomile tea bags
1 ½ tablespoons lemon juice
3 tablespoons honey
1 tablespoon red wine
1 tablespoon brown sugar
⅛ teaspoon lemon zest
DIRECTIONS
For crust: Preheat oven to 375 degrees. Combine all ingredients in a bowl. Using your finger tips, rub the butter into the flour. Do not knead. Rub the flour and butter until it forms a crumbly mixture. Press the crumbs into a ball. Cover the dough ball in plastic wrap and refrigerate for 30 minutes.
For pears: While the dough is in the fridge, peel the pears. Make a thin slice on the bottom of the pears so that they can sit stably. Core the pears and remove the seeds.
Crush the walnuts lightly. Combine them with the brown sugar and flour. Fill the cored inside of the pear with the walnut-sugar mixture. Pack the mixture into the pear cavity. When the dough is chilled, take it out of the fridge and divide it into two. Roll out each portion into a rough round. Place a pear in the middle of one dough round. Lift the sides of the dough up and press together over the pear to form a parcel. Pinch off any excess dough. Patch up any empty spots, using water to seal the edges.
Brush the pear parcels with milk or egg wash. Bake in the oven for 50 to 60 minutes or until the pear parcels are golden. Cool 10 to 15 minutes before serving.
For sauce: Boil the water in a saucepan. When the water comes to a boil, add the chamomile tea bags. Boil for 30 seconds. Turn off heat and let the tea steep for about 7 minutes. Remove tea bags.
Turn the heat back on and add all the remaining ingredients to the tea. Simmer until the sauce has reduced to about 60% of its original volume.
NUTRITION
Serving Size: 1 Pear (425g)
Calories: 980
Carbohydrate: 128g
Dietary Fiber: 7g
Protein: 6g
---
1 Comment » for Baked Pear Parcels with Lemon Chamomile Sauce