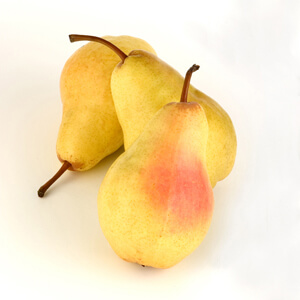 Pork Tenderloin with Pear Puree
This savory dish by Debby R. of Clearwater, FL was awarded the Grand Prize in The Perfect Pear recipe contest held in partnership with
epicurious.com
. Pork and pears are a classic combination, and this dish serves up juicy pork tenderloin with a gorgeously aromatic pear puree that is accented with bleu cheese and balsamic caramelized onions. This is a perfect entree for chilly fall and winter evenings.
INGREDIENTS
Pork Tenderloin
2 tablespoons olive oil, divided
1 1/4 pounds pork tenderloin
1 1/4 teaspoons salt, divided
1/2 teaspoon freshly ground black pepper
3 tablespoons butter, divided
2 medium sweet onions, halved, thinly sliced
3 tablespoons balsamic vinegar
3 Bartlett pears, cored and chopped
1/2 teaspoon ground cinnamon
2 tablespoons amber agave nectar
3/4 cup water
2 oz. crumbled bleu cheese
Garnish
pear slices
DIRECTIONS
Preheat oven to 350 degrees.
Heat 1 tablespoon olive oil in a large oven-proof skillet over medium-high heat. Season pork with ½ teaspoon salt and black pepper. Place into skillet and brown on all sides, approximately 1-2 minutes per side. Place skillet into preheated oven and cook pork to an internal temperature of 160 degrees, approximately 30 minutes (or to desired doneness). Remove from oven, cover with foil and let rest for 5 minutes.
Meanwhile, heat remaining 1 tablespoon olive oil and 1 tablespoon butter in a large skillet over medium-low heat. Add in the onions, season with ½ teaspoon salt and cook until softened and browned, approximately 20-25 minutes. Stir in the balsamic vinegar, cook an additional 2 minutes.
Heat remaining 2 tablespoons butter in a medium skillet over medium heat, add in the pears and cinnamon, cook until softened, approximately 8-10 minutes. Remove from skillet, cool slightly. Place pears into a blender, add in the agave nectar, water and remaining ¼ teaspoon salt and puree until the mixture is smooth.
To serve, cut pork into ¾-inch slices. Spoon some of the pear puree onto serving plate, place 3-4 slices of pork onto puree, top pork with onions and bleu cheese crumbles, garnish with pear slices. Serve with remaining pear puree on the side and enjoy!
NUTRITION
Serving Size: 5 oz
Calories: 450
Carbohydrate: 35g
Dietary Fiber: 5g
Protein: 32g