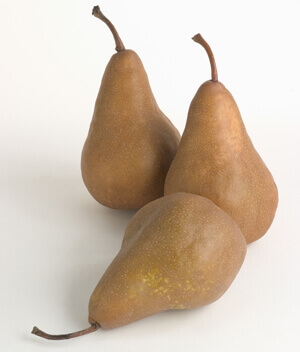 Pork Chops with Pear Sauce
Trade in your typical pork chops-and-applesauce for this fresh entree. This sauce is also good with chicken.
INGREDIENTS
1 ½ cups all-purpose flour
2 teaspoons salt
2 teaspoons pepper
2 tablespoons ground sage
4 boneless, 1-inch thick pork chops
4 tablespoons extra virgin olive oil
2 Bosc USA Pears, peeled, cored, and thinly sliced
¾ cup white wine
3 tablespoons sugar
1 tablespoon Dijon mustard
3 teaspoons fresh grated ginger
DIRECTIONS
In shallow dish, combine flour, salt, pepper, and sage. Coat pork chops in flour mixture. In large sauté pan, heat olive oil until very hot.
Add pork chops and brown well on each side. Remove pork and set aside. Add pears to pan and sauté for two minutes. Add wine, sugar, mustard, and ginger; bring to a boil. Continue to boil until sauce starts to thicken.
Add pork slices on top of sauce, cover and cook until pork is thoroughly cooked. Serve by placing pork chop on each plate and spooning pear sauce over the top.
NUTRITION
Serving Size: 1 Pork Chop
Calories: 710
Carbohydrate: 62g
Dietary Fiber: 5g
Protein: 54g