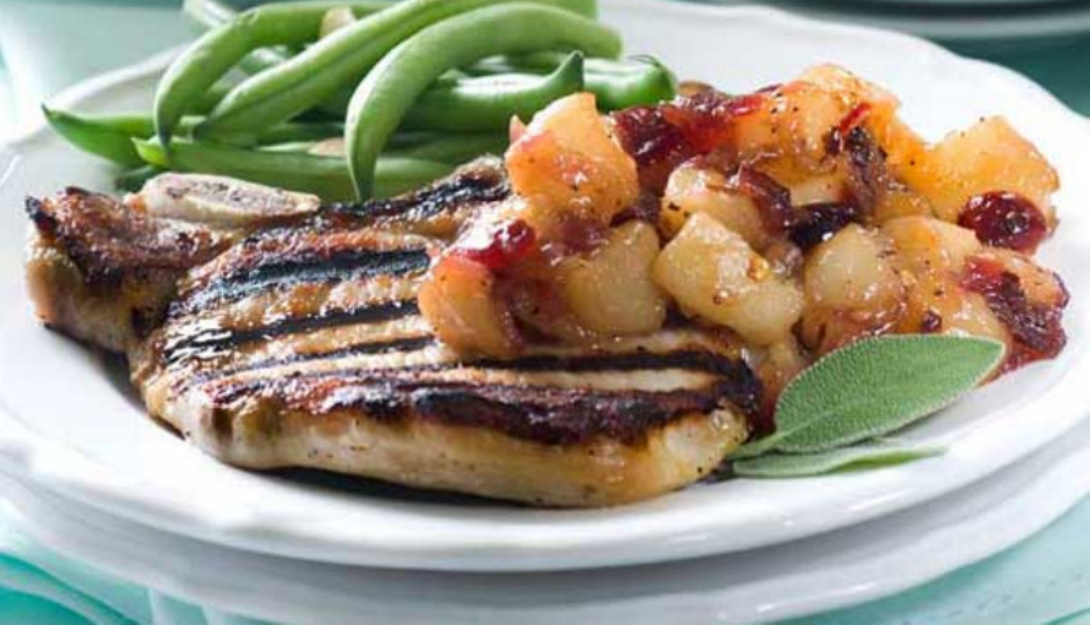 Brined Pork Chops with Spicy Pear Chutney
This recipe, developed by Carol Kicinski of
Simply Gluten-Free
, uses classic pork flavors in the brine: onion and sage. You can change up the flavor any way you like with different herbs, spices, and vegetables, but keep in the basics of water, salt, sugar, and vinegar. They all play their part in the brining process. The sugar will keep the pork chops from tasting too salty and the vinegar tenderizes the meat.
INGREDIENTS
Brined Pork Chops
4 cups water, divided
¼ cup kosher salt
¼ cup brown sugar, packed
1 teaspoon black pepper
1 tablespoon apple cider vinegar
4 pork chops, about ¾ inch thick
½ white onion, sliced
2 or 3 sprigs of fresh sage
Olive oil for brushing the pork chops
Spicy Pear Chutney
1 tablespoon olive oil
½ medium-sized red onion, minced
½ cup dried cranberries
¼ cup granulated sugar
1 tablespoon apple cider vinegar
1 tablespoon freshly squeezed lemon juice
1 teaspoon kosher or sea salt
½ teaspoon black pepper
¼ – ½ teaspoon red pepper flakes (depending on how spicy you want it)
3 fresh USA Pears, chopped
DIRECTIONS
Brined Pork Chops
Combine 1 cup water with the salt, brown sugar, and pepper in a small saucepan. Heat, stirring until the salt and sugar dissolve. Add 3 cups of cold water and let the mixture cool. Stir in the apple cider vinegar. Pour mixture into a glass baking dish or large freezer weight plastic storage bag. Add the pork chops, onions, and sage. Refrigerate for 1–12 hours.
Take pork chops out of the fridge and rinse them well with cold water, then pat dry with paper towels. Let set for about 5 minutes before cooking.
Heat a grill pan or skillet over medium high heat. Brush the pork chops with olive oil and cook for 4 minutes per side (more or less depending on the thickness of the pork chops). Remove from pan, brush the top with a little more olive oil and let rest for 5 minutes before serving.
Spicy Pear Chutney
Heat a large saucepan over medium heat. Add the olive oil and minced red onion. Cook for 2 or 3 minutes until the onions start to soften. Add the dried cranberries and cook for 5 more minutes. Stir in the sugar, vinegar, lemon juice, salt, pepper, red pepper flakes, and pears. Combine well. Simmer on low heat for 5 to 10 minutes or until the pears and cranberries have softened but the pears still retain their shape. If the mixture is too liquid, turn the heat up and cook until most of the liquid has evaporated. Serve warm.
yield: Makes about 2 cups
NUTRITION
Serving Size: 1 Pork Chop (377g)
Calories: 510
Carbohydrate: 64g
Dietary Fiber: 7g
Protein: 38g