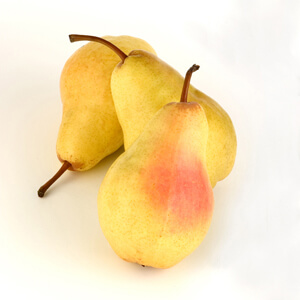 Spread this pear butter over sweet and savory foods, from breakfast breads to roasted chicken.
INGREDIENTS
4 pounds ripe USA Pears, preferably Bartletts, peeled, cored, and cut into 1-inch chunks
5 cups apple cider
2 ½ cups light brown sugar
1 ½ teaspoons cinnamon
1 ½ teaspoons grated nutmeg
¼ teaspoon powdered cloves
2 tablespoons vanilla extract (optional)
DIRECTIONS
Bring cider to boil over high heat. Cook until reduced to 2 ½ cups, or half.
Add pear chunks and cook until fruit is soft and translucent, about 30 minutes. Transfer to a food processor. Puree until mixture is smooth.
Wash original pan, or use another. Add fruit puree, brown sugar, and spices, and stir to dissolve. Bring mix to a simmer, stirring frequently to avoid scorching. Cook until very thick, 30 minutes or more.
Remove from heat, cool to room temperature. Add vanilla, if using it. (Taste at this point; you may not want to add it.)
Put pear butter into clean sterilized canning jars, seal with canning lids and rings. Process according to jar manufacturer's directions or in a boiling water bath for 10 minutes.
NUTRITION
Serving Size: 1 TBSP
Calories: 40
Carbohydrate: 9g
Dietary Fiber: 1g
Protein: 0g