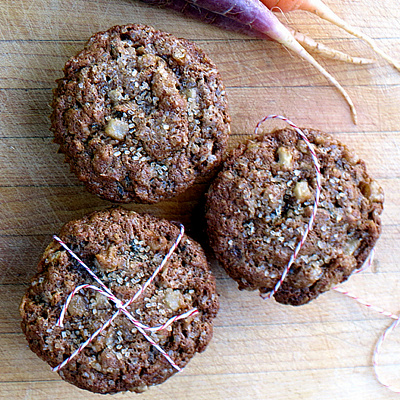 Pear Carrot and Coconut Muffins
Here is a fun fall take on the classic morning glory muffin, a popular recipe published in Gourmet Magazine back in the 1980s. These muffins are chock-full of fruit, vegetables, and nuts, making them hearty and filling, but they retain a soft, light texture, as any great muffin should. They will keep very well in the refrigerator and reheat wonderfully thanks to their high moisture content. If you prefer your muffins warm from the oven, you can even mix up a batch and bake off just a few at a time, saving the remaining batter for up to 5 days in the refrigerator.
INGREDIENTS
2 cups whole wheat pastry flour
1 cup lightly packed brown sugar
2 teaspoons cinnamon
⅛ teaspoon nutmeg
1 ½ teaspoons baking soda
½ teaspoon salt
1 ½ cups finely shredded carrot (about 2 medium carrots)
1 ½ cups finely diced pear (from about 2 ripe USA Pears, such as Bartlett)
⅔ cup unsweetened shredded coconut
½ cup walnuts, roughly chopped
¾ cup neutral-flavored oil, such as canola or safflower
2 large eggs
1 teaspoon vanilla
2 tablespoons demerara sugar, for sprinkling on top (optional)
DIRECTIONS
Preheat the oven to 350 degrees. In a large bowl, combine the flour, sugar, cinnamon, nutmeg, soda, and salt, and whisk to combine. Add the carrot, pear, coconut, and walnuts to the flour mixture and stir gently to coat the fruit and vegetables. In a separate small bowl, whisk together the oil, eggs, and vanilla. Add the liquid mixture to the dry and stir gently until no dry pockets of flour remain. Line a muffin tin with papers and fill each cup ¾ full with the batter. Sprinkle each muffin with a little demerara sugar. Transfer to the preheated oven and bake the muffins for 25-30 minutes, or until a toothpick inserted in the center of a muffin comes out clean.
NUTRITION
Serving Size: 1 Muffin
Calories: 330
Carbohydrate: 38g
Dietary Fiber: 4g
Protein: 5g
---
1 Comment » for Pear Carrot and Coconut Muffins