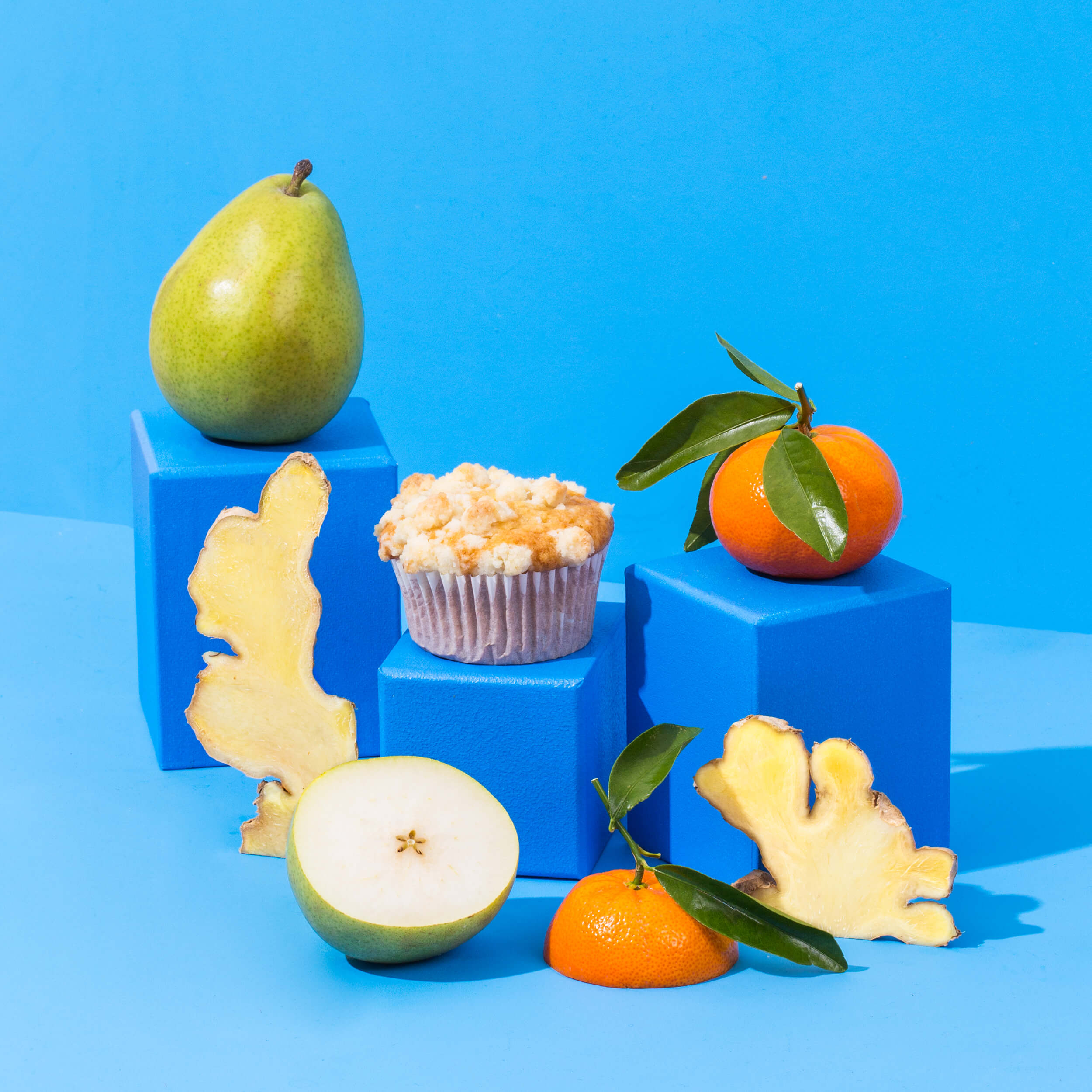 Pear, Ginger, and Mandarin Muffins
Spring has awoken, spring is upon us. These muffins are part of the welcome basket. Peel-and-eat clementines or mandarins prove to be a delicious match for pear and ginger in these yummy muffin that are perfect for a light breakfast or afternoon snack. Recipe by Billy Green of Wit & Vinegar (http://witandvinegar.com/)
INGREDIENTS
For the streusel:
3 tablespoons unsalted butter, melted
3 tablespoons white granulated sugar
1/2 teaspoons ground cinnamon
1/2 cup all purpose flour
small pinch of salt
For the muffins:
2 cups all purpose flour
1/2 teaspoon coarse kosher salt
1/2 teaspoon baking soda
1/2 teaspoon baking powder
1 cup white granulated sugar
zest and juice from 1 clementine or small mandarin, divided
5 tablespoons unsalted butter, melted
1/4 cup neutral oil, like avocado or vegetable
1 egg
1 teaspoon freshly grated ginger using the same tool you zested the citrus with
1 clementine juice
2 medium d'anjou pears
DIRECTIONS
Start it all out by preheating your oven to 350ºF and lining a muffin tin with baking cups.
To make the streusel:
Combine all the streusel ingredients in a small bowl and mix until the mixture starts to come together and look like streusel (I just use my hands to quickly make it come together but you could always use a fork or silicone spatula). If decent sized crumbles aren't forming, squeeze a handful of the streusel and carefully crumble it back into the bowl. Place the bowl in the fridge while you make the muffins. *If you wanna make clean up easier, melt the butter in the microwave just until it's melted then let cool for 5 minutes and add the rest of the streusel ingredients to the same bowl.
To make the muffins:
Whisk together the flour, salt, baking soda and powder in a bowl and set aside.
In another bowl, rub together the sugar and clementine zest with your fingertips then add the butter, oil, egg, and ginger and whisk until combined. Core the pears, no need to peel, and add them to a blender along with the clementine juice (it's a little tricky to juice a clementine just use your hands and do your best, the main goal is to get a shot of acidity with the pears to help them not brown when you puree them). Use the pulse function on the blender to puree the pears into something similar to the consistency of applesauce making sure you're not just blasting the blender on high, we're not looking for baby food here, just trying to break down the pear enough so there's not obvious chunks.
"I'm not finely chopped up, not quite a baby food": the pear puree story
Measure out a cup of the pear puree (you should have almost exactly that but you might have more, it all depends on the size of the pears) and add it to the wet ingredients. Mix to combine then add the dry ingredients you whisked together and stir just until combined.
Divide the batter between the 12 baking cups in the muffin tin to fill them about 2/3 full (I use my medium sized cookie scoop x 2 for a total of 3 tablespoons per muffin) then top each muffin with about a tablespoon of the streusel then bake in the preheated oven for 20-25 minutes, until the muffins are just barely golden brown and a toothpick inserted into one comes out clean. Let cool for 10 minutes before carefully removing the muffins from the tin and letting them cool completely.
NUTRITION
Serving Size: 1 Muffin (81g)
Calories: 260
Fat: 13g
Carbohydrate: 32g
Dietary Fiber: 2g
Protein: 3g