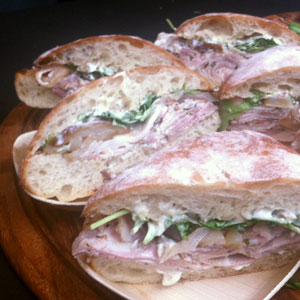 Created by Chef Ethan Stowell of Seattle, WA, this combination of salty pork belly with sweet and tangy pear mostarda makes for a supremely satisfying sandwich.
INGREDIENTS
Pork Belly
2 pounds pork belly, skin off
4 cloves garlic, peeled and finely chopped
4 sprigs rosemary, leaves removed and finely chopped
2 tablespoons finely ground black pepper
1 tablespoon salt
Pear Mostarda
1 pound Bosc pears
1 pound red onion
¼ cup sugar
¼ cup water
¼ teaspoon mustard essence
½ teaspoon salt
Caper Mayonnaise
1 cup mayonnaise
2 tablespoons capers
1 teaspoon lemon juice
¼ teaspoon black pepper
DIRECTIONS
For pork belly: Combine the garlic, rosemary, pepper and salt in a bowl and mix well. Lay the pork belly out on a cutting board and thoroughly spread the mixture over the entire belly. Wrap in plastic wrap and refrigerate over night.
Preheat the oven to 350 degrees. Remove pork belly from the refrigerator and let come to room temperature. Once at room temperature, roll the pork belly up as tight as possible and secure with several pieces of butcher twine. Place the belly roulade on a wire rack with a baking sheet underneath. Cook the roulade at 350 degrees until the internal temperature reads 165.
Once the desired temperature is achieved, remove the roulade from the oven and let sit at room temperature until cool enough to handle, about 30-45 minutes. Place on a plate in the refrigerator until cold, preferably overnight.
To slice the roulade, remove from the refrigerator and slice paper-thin with a sharp knife or preferably an electric meat slicer. Set aside.
For mostarda: Peel and slice thin the red onions and Bosc pear. Set aside until needed.
Combine the sugar and water in a medium pot. Heat until the water has evaporated and the sugar starts to change color and caramelize. Once the sugar start to caramelize, add the pears and onions. Stir to combine, turn heat to medium and cook until soft, about 10-15 minutes.
Let the mixture cool to room temperature and then mix in the salt and mustard essence. Store in the refrigerator until needed.
For mayonnaise: In a food processor fitted with the metal blade combine all the ingredients until smooth. Refrigerate until needed.
To serve: Split the rolls in half across the bias and spread each side liberally with caper mayonnaise. Pile as much pork belly porchetta as you like on the bottom half of the roll. Then pile as much Bosc pear mostarda and arugula on top as you like. Place the top half of the roll on top, cut sandwich in half. Enjoy!
yield: Serves 4
NUTRITION
Serving Size: 1 Sandwich (537g)
Calories: 1210
Carbohydrate: 64g
Dietary Fiber: 8g
Protein: 53g