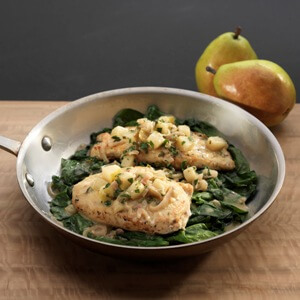 Crispy Chicken Cutlets with Pears Shallots and Wilted Spinach
This one-pan weeknight dinner brings together the natural sweetness of pears with earthy spinach and juicy chicken cutlets in a simple dish with explosive flavor.
INGREDIENTS
4 small boneless, skinless chicken breasts
Salt and freshly ground black pepper
¼ cup all-purpose flour
¼ cup extra virgin olive oil, divided
3 tablespoons unsalted butter
2 shallots, thinly sliced
2 USA Pears, peeled, cored, and cut in ½-inch dice
Juice of 1 lemon
1 teaspoon Dijon mustard
¾ cup chicken or vegetable stock
4 teaspoons finely chopped fresh thyme (about 4 sprigs)
2 tablespoons coarsely chopped flat leaf parsley
Fresh spinach leaves, for serving
DIRECTIONS
Place each chicken breast between 2 sheets of plastic wrap. Using a heavy skillet or mallet, pound the breasts to a thickness of ¼-inch. Season both sides with salt and freshly ground black pepper and lightly coat with a dusting of flour.
Place 1 tablespoon each of olive oil and butter in a large skillet over medium high heat. When the butter begins to foam, add two of the chicken breasts and sauté on one side until golden brown, 2 to 3 minutes. Turn the chicken breasts over and sauté the other side until cooked through, 2 to 3 minutes. Transfer the chicken to a plate, raise the heat to medium high and repeat with another tablespoon each of olive oil and butter and the other 2 chicken breasts.
Add the shallot and pears to the pan and cook over medium-high heat until lightly translucent and golden, about 3 minutes. Add the lemon juice, mustard, chicken stock, and any juices on the plate and de-glaze the pan, scraping any brown bits on the bottom with a wooden spoon. Simmer until the sauce reduces by half, about 4 minutes. Add the chopped thyme and parsley, and gradually stir in the remaining tablespoon of butter until just melted.
Spoon sauce over chicken cutlets and serve over spinach.
NUTRITION
Serving Size: 1 Cutlet
Calories: 500 (40% Calories from Fat)
Carbohydrate: 40g
Dietary Fiber: 10g
Protein: 31g