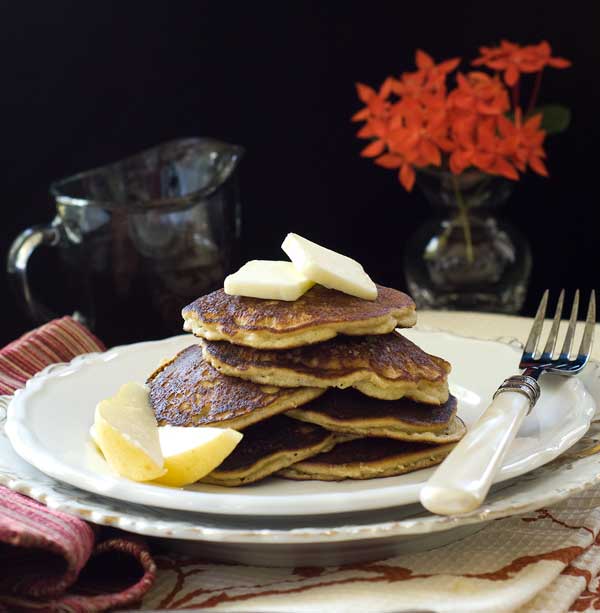 Almond Pear Cardamom Pancakes
When dicing the pears, smaller dice is better; this will ensure that the pancakes cook evenly. You can also mash the pears with a potato masher to make sure they are small enough for even cooking. It is best to let the batter sit for about 10 minutes before cooking the pancakes. Recipe developed by Carol Kicinski of Simply Gluten-Free.
INGREDIENTS
2 large eggs
¼ cup agave nectar or honey
¼ cup almond milk (or water)
2 teaspoons pure vanilla extract
1 teaspoon pure almond extract
1½ cups blanched, finely ground almond meal
½ teaspoon kosher or fine sea salt
1 teaspoon baking powder
½ teaspoon baking soda
1 tablespoon cornstarch or arrowroot powder
⅛ teaspoon cardamom
3 medium pears, peeled, cored and cut into ⅛–¼ inch dice
DIRECTIONS
In a blender combine all ingredients except the pears. Process on high speed until smooth and fully combined, about 1–2 minutes. Pour batter into a mixing bowl and fold in the diced pears.
Heat a griddle or skillet over medium heat. Spray lightly with gluten-free non-stick cooking spray. Ladle in about 2 tablespoons per pancake. Cook until the tops form small bubbles and the edges start to look dry, about 2 minutes. Flip and cook until the bottom is browned and the pancake feels firm, about 1 more minute. Transfer cooked pancakes to a plate and keep warm. Repeat with remaining batter.
Serve with a good quality non-dairy spread such as Earth Balance (or butter, if dairy is not an issue) and maple syrup if desired.
NUTRITION
Serving Size: 1 Pancake (66g)
Calories: 100
Carbohydrate: 16g
Dietary Fiber: 2g
Protein: 4g
---
1 Comment » for Almond Pear Cardamom Pancakes