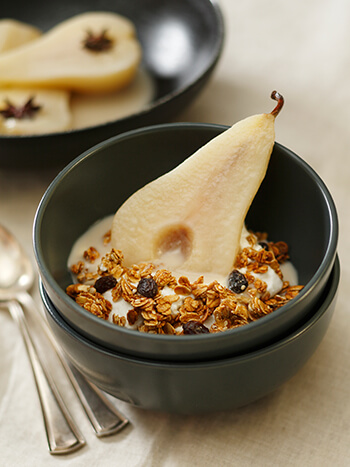 Creamy Coconut and Star Anise Poached Pears
In this recipe, coconut milk and star anise come together to create a simple but indescribably delicious sauce for classic poached pears. This versatile recipe can be dished up as a dessert, with the warm poached pears served with a drizzle of the coconut-anise poaching liquid atop, or, as in the following recipe, as a tasty protein-and-fiber-filled breakfast with the poached pear served over creamy Greek yogurt and crunchy granola.
INGREDIENTS
2 cans (14 ounces each) coconut milk
½ cup packed dark brown Muscovado sugar (or substitute dark brown sugar)
3 whole star anise pods
3 firm USA Pears, such as Bosc, Anjou, Red Anjou, or Concorde
2 cups Greek yogurt, divided
1 cup granola, divided
DIRECTIONS
Peel and halve the pears, and scoop out their cores using a spoon or a melon baller.
In a medium saucepan over low heat, warm coconut milk, sugar, and anise until sugar is dissolved. Submerge the pears in the coconut milk. Cover and cook for 20-25 minutes, keeping the heat at low to prevent burning the coconut milk, until the pears are just tender when pierced with a fork. Gently stir the mixture every 8-10 minutes to prevent scorching. Once tender, remove the pears and let cool slightly. Remove the sweetened, spiced coconut milk from heat and set aside.
Spoon 1/3 cup Greek yogurt into 6 serving bowls, and sprinkle 2 tablespoons of granola atop each bowl. Place one poached pear half in each bowl. Spoon 1 tablespoon of the poaching sauce over the top and serve. Refrigerate any leftover pears in the reserved coconut milk.
NUTRITION
Serving Size: 1 Half Pear
Calories: 415 (43% from fat)
Carbohydrate: 53g
Dietary Fiber: 6
Protein: 12g
---
1 Comment » for Creamy Coconut and Star Anise Poached Pears