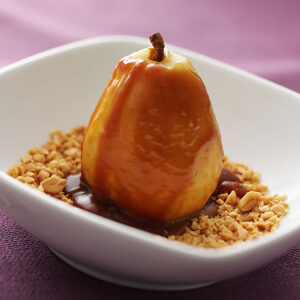 Poached Pears with Vanilla Caramel Sauce and Toasted Peanuts
Although any firm pear will do, this recipe is perfect for long-necked Bosc pears as they hold their shape well during cooking.
INGREDIENTS
Poached Pears
¾ cup sugar
1 (750 ml) bottle dry white wine
1 cinnamon stick
2 tablespoons black peppercorns
1 1-inch wide piece lemon zest
6 USA Pears, such as Bosc, Concorde, or Anjou, with stems
1 cup peanuts, toasted and chopped
Vanilla Caramel Sauce
1 cup sugar
½ cup water
2 teaspoons freshly squeezed lemon juice
½ cup (1 stick) unsalted butter
¾ cup heavy cream
1 teaspoon vanilla
DIRECTIONS
For pears: Place sugar, wine, cinnamon stick, peppercorns, and lemon zest in a small deep pan and bring slowly to a boil. Meanwhile, peel pears, leaving stems and scooping out flower ends with a melon baller. Immediately immerse pears in syrup, standing upright if possible.
Set a small heatproof plate on top to keep them completely immersed in syrup. Bring just to a boil then reduce to simmer. Cook until pears are tender when pierced with a knife, 30 to 40 minutes. Remove from the syrup. Reserve syrup for another use. Divide the pears among 6 plates.
Drizzle with Vanilla Caramel Sauce and sprinkle over toasted peanuts. Serve immediately.
For sauce: In a medium heavy-bottomed saucepan, heat sugar, water, and lemon juice, over low heat until the sugar dissolves. Bring the syrup to a boil, and continue to boil without stirring until it begins to turn golden around the edges. (It is important not to stir, as the syrup may crystallize.)
Meanwhile, combine butter and heavy cream in a small saucepan. Heat until the butter melts. When the syrup begins to color, lower the heat, and continue boiling to a deep-golden color. It will darken rapidly. Remove the pan from the heat, and let it cool for 30 seconds. Add the butter and cream, being careful as the syrup will bubble up in the pan.
Place pan back over heat, stirring until the caramel is completely dissolved. Add vanilla and stir to combine. Serve warm or at room temperature.  Store the sauce in an airtight container in the refrigerator for up to 1 month; it will solidify. Reheat it over a double boiler or in a heavy saucepan over very low heat, adding a bit of warm water if it is too thick.
NUTRITION
Serving Size: 1 Pear
Calories: 810
Carbohydrate: 92g
Dietary Fiber: 8g
Protein: 7g