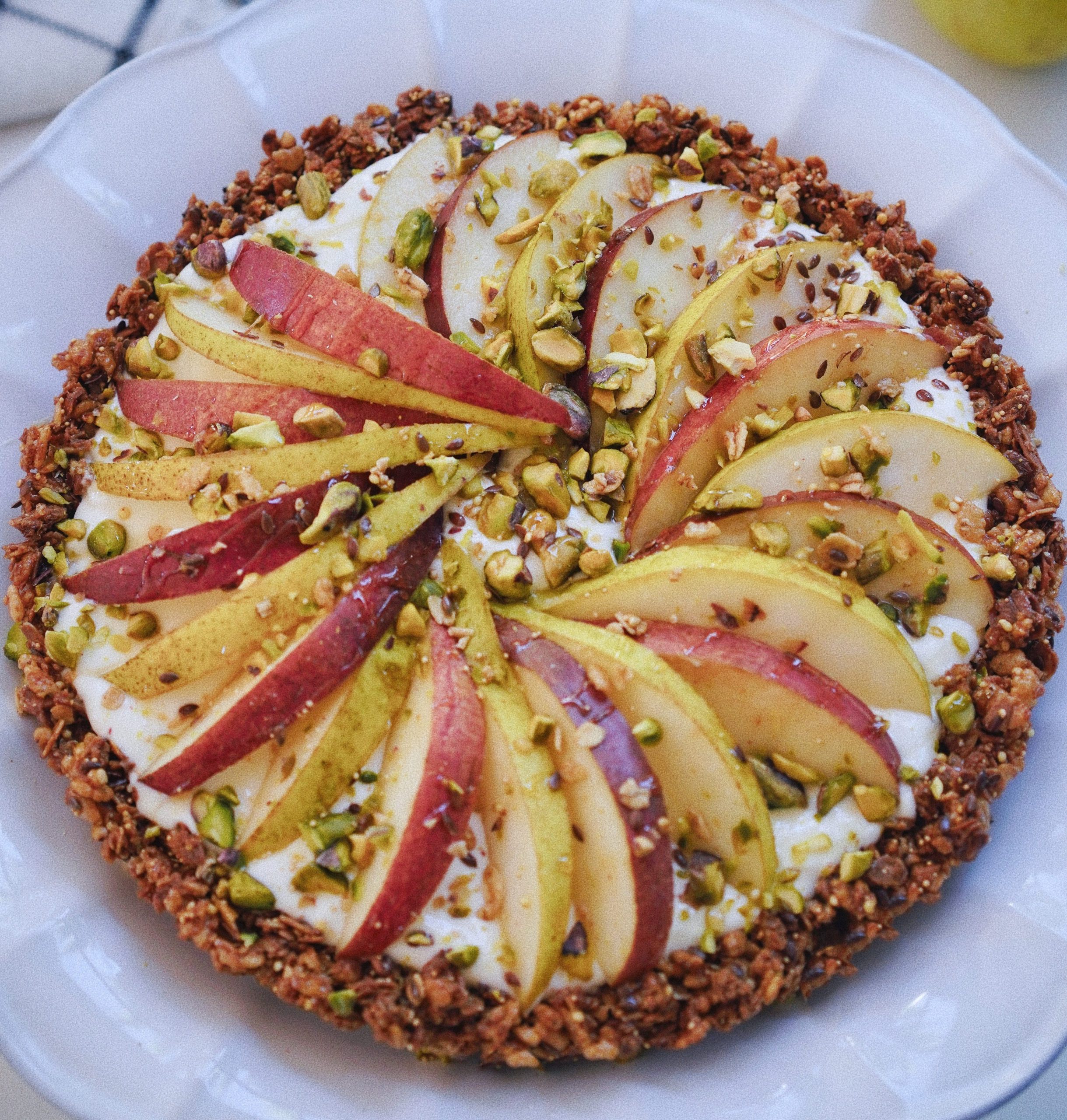 Granola-crusted Yogurt Pear Tart
This Granola-crusted yogurt pear tart is a great dish to make for the family on the weekends, and it makes a real treat for kids It's even better with juicy Northwest pears, chopped pistachios and a drizzle of honey. Recipe by Erica Chan Coffman (honestlyyum).
INGREDIENTS
2 cups of rolled oats⠀
1 cup of chopped pecans⠀
1/2 cup of maple syrup⠀
1 1/2 teaspoons of ground cinnamon⠀
2 generous pinches of kosher salt⠀
1/3 cup of coconut oil, melted⠀
Extra coconut oil and a handful of all-purpose flour for greasing and flouring the tart pan⠀
1.5 cups of plain Greek yogurt⠀
1 tablespoons of maple syrup or agave syrup or other sweetener⠀
1/2 teaspoon of vanilla extract⠀
3 pears (preferably green or red Anjou)⠀
chopped pistachios⠀
honey ⠀
DIRECTIONS
Preheat the oven to 325 degrees.⠀
Start by making the granola crust. Mix all the granola ingredients in a bowl until evenly combined. Use the bottom of the tart pan to trace a circle of parchment paper to line the bottom of the tart pan. Smear a dab of coconut oil to the bottom of the tart pan so the parchment paper stays in place. Grease the sides and top of the parchment well then lightly flour the greased areas and tap the excess flour out.⠀
Fill the tart pan with the granola and using a measuring cup press the bottom layer of granola evenly and press it against the sides. You may have extra granola that you can bake up to sprinkle on top. If you do cook the extra granola make sure to remove it before the crust is ready because it will cook a lot faster than the crust.⠀
Place the tart on a baking sheet and bake for 20 to 25 minutes until golden brown. Allow the tart to cool enough to handle with your hands, about 15 minutes. Then, carefully, remove the side of the tart pan but keep the bottom of the tart pan under the granola shell. Allow the granola shell to cool entirely.⠀
Fill the shell with yogurt, sweetened with maple syrup and vanilla, and top with sliced pears, chopped pistachios and a drizzle of honey. Slice and serve!
NUTRITION