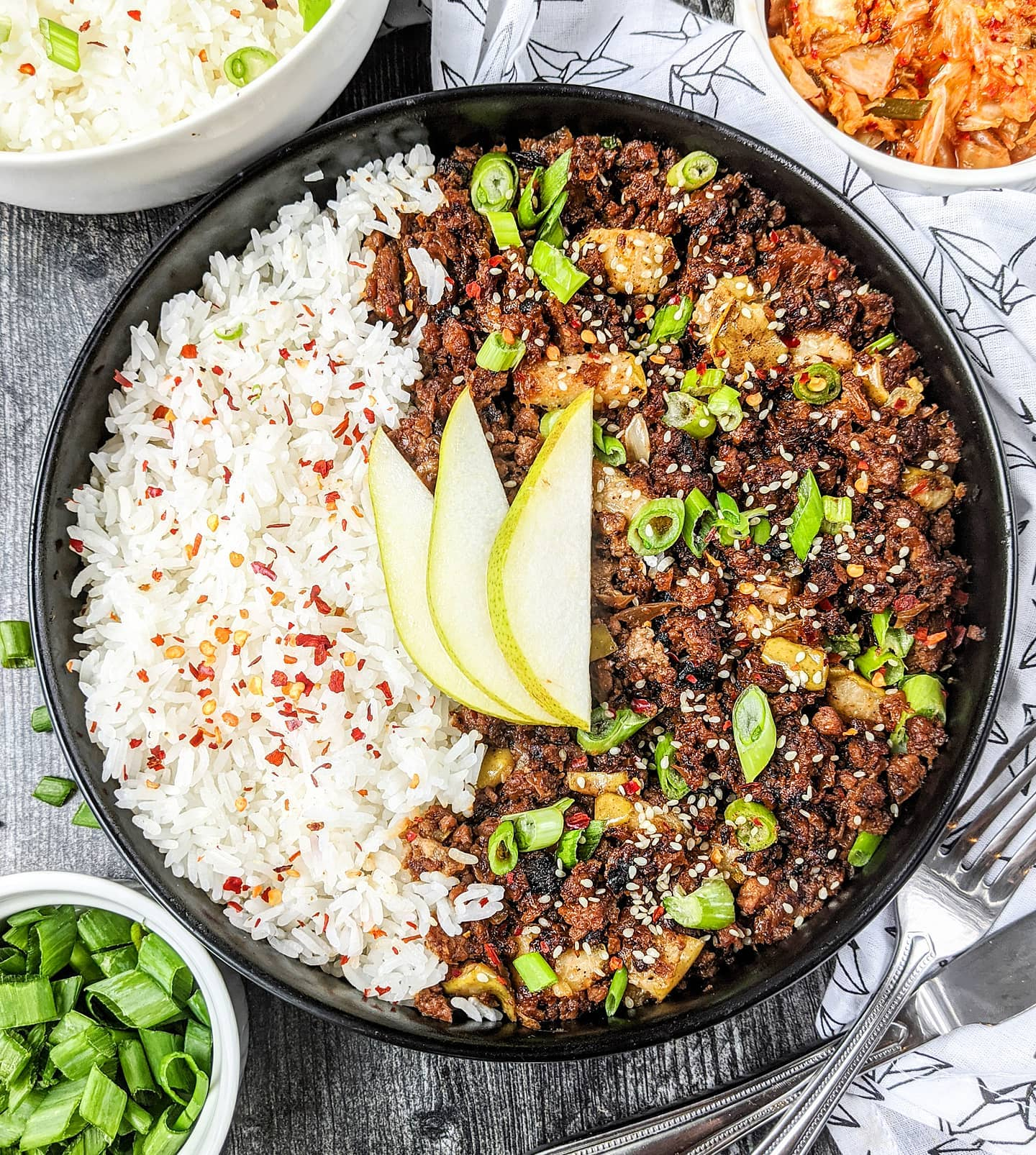 Plant-based Ground Beef Stir Fry with Pears
This dish features plant-based ground beef sautéed with green Anjou pears mixed with a delicious Korean-inspired sauce featuring pureed red Anjou pears and gochujang (Korean fermented red pepper paste). This recipe can be done in 30 minutes or less! Recipe by @kindred.vegan.souls.
INGREDIENTS
Sauce:
½ Anjou pear, peeled and chopped (preferably red Anjou)⠀
½ onion, chopped⠀
1 1/2 tsp minced garlic⠀
2 tsp minced ginger⠀
1 tsp black pepper⠀
1-2 tbsp gochujang (substitute chili paste)⠀
1/4 cup soy sauce⠀
3 tbsp agave (substitute 3 tbsp light brown sugar)⠀
1 tsp cornstarch⠀
3 tbsp sesame oil⠀
⠀
Plant-Based Ground Beef:
1-2 tbsp vegetable or canola oil⠀
1/2 onion, diced⠀
1 package alternative plant-based ground beef⠀
½ Anjou pear, diced (preferably green Anjou)⠀
⠀
Sides/Garnish:⠀
Green onions, thinly sliced⠀
Sesame seeds for garnish⠀
Cooked white or jasmine rice⠀
Bok choy
Kimchi
DIRECTIONS
1. Cook rice according to package instructions.⠀
⠀
2. Add sauce ingredients to a blender and blend until smooth.⠀
⠀
3. On medium-high heat, add vegetable or canola oil to frying pan. Add diced onion and cook for 2 mins until it starts to soften. Add plant-based beef to pan and break into grounds with spatula and cook for about 5 mins until it begins brown (drain excess liquid if needed). Then add prepared sauce and cook for an additional 2-3 mins. Remove plant-based beef from pan and set aside.⠀
⠀
4. Season diced pears with salt and pepper. Add 1/2 tbsp of oil to the same pan that you used to cook the plant-based beef. On medium heat, cook diced pears for about 2 mins. Then add plant-based beef to pan and toss with pears.⠀
⠀
5. Serve Korean plant-based ground be over rice and add garnish.
NUTRITION