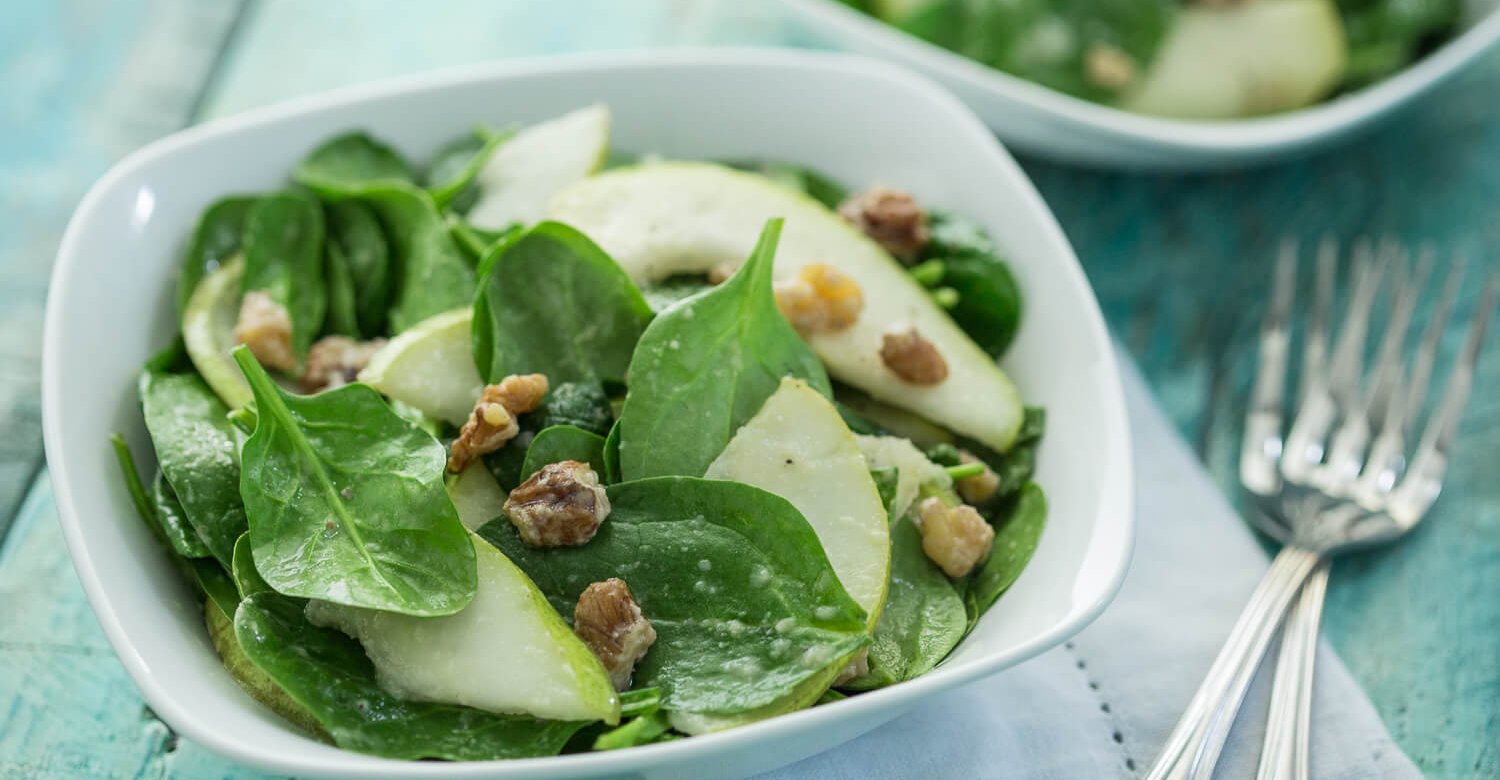 Pears with Walnut and Spinach with Citrusy Dressing
Walnuts and pears shine in this simple delicious salad that is easy to make and sure to please!
INGREDIENTS
Citrusy Dressing
1 very ripe or overripe USA Anjou or Bartlett Pear, peeled, cored, and coarsely chopped
1/4 cup fresh mandarin orange juice squeezed from mandarins
1/4 cup unseasoned rice vinegar
2 teaspoons grated fresh ginger
1/4 teaspoon kosher salt
1/4 teaspoon freshly ground black pepper
2 tablespoons toasted sesame oil, or olive oil
Salad
1 5 oz bag of baby spinach
1 large, perfectly ripe USA Green Anjou Pear
1/3 cup walnut pieces, divided
DIRECTIONS
To make the dressing: Combine the pear, mandarin juice, vinegar, ginger, salt, and pepper in a blender and process until smooth. Add the sesame oil and blend to combine. Taste and adjust the seasoning. Use immediately or refrigerate in a sealed container for up to 1 week.
In a large bowl, place baby spinach. Add thinly sliced pears, ¼ cup of walnuts with 4 tablespoons of the dressing, and toss to coat. Taste and adjust the seasoning with more salt and pepper, as needed.
To plate, serve to small plates and sprinkle remaining walnuts on top.
NUTRITION
Serving Size: 1 Salad (6 oz)
Calories: 110
Fat: 5 g
Carbohydrate: 12g
Dietary Fiber: 3g
Protein: 2g
---
2 Comments » for Pears with Walnut and Spinach with Citrusy Dressing