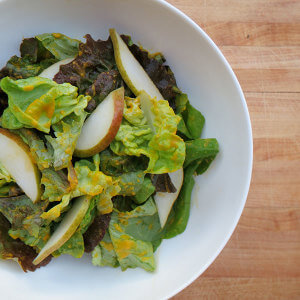 Pear and Roasted Carrot Vinaigrette
"I often see salad recipes that include pears in their ingredient lists, but it's rare to see a salad dressing that uses fresh pears. I created this dressing as a way to utilize ripe pears and to bring sweetness to a salad dressing without any added sugar. The roasted carrots give this dressing a nice, rich flavor, and the champagne vinegar balances the sweetness from the pears perfectly.
This vinaigrette is very versatile—I first served it over a simple green salad of garden lettuces and fresh pears. The next day I tossed some of the leftover dressing with a mixture of cooked and cooled brown rice, canned black beans, and spinach for a quick lunch. The last few tablespoons made the perfect dipping sauce for simple barbecued chicken. I'll be making this recipe again as soon as the pears on my counter are ripe!" – Hilary Finch Hutler, Tummyrumblr
INGREDIENTS
1 medium carrot, cut into ½-inch pieces (to make 1 cup of chopped carrot)
2 teaspoons plus 3 tablespoons grapeseed oil
1 ripe USA Pear, such as Bartlett or Red Bartlett
3 tablespoons champagne vinegar
2 sprigs of fresh thyme, leaves only
½ teaspoon salt
⅓ cup cold water
DIRECTIONS
Preheat the oven to 400 degrees. Place the carrot chunks into a small baking dish and toss with 2 teaspoons of grapeseed oil. Roast the carrots for 25-30 minutes until soft and beginning to brown. Set aside to cool for 10 minutes. Once the carrots are cool enough to handle, place them into a blender with all of the remaining ingredients except the oil. Puree the mixture until well combined. Lastly, add the remaining 3 tablespoons oil in a slow, thin stream through the hole in the blender's lid. Store the dressing in an airtight container in the refrigerator for up to one week.
NUTRITION
Serving Size: 1 TBSP
Calories: 25
Carbohydrate: 1g
Dietary Fiber: 0g
Protein: 0g