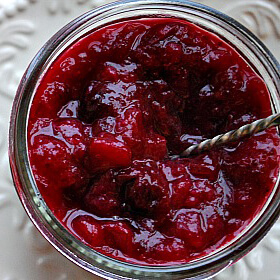 Bosc Pear Cranberry Orange Sauce
Blogger Brook Hurst Stephens of Learn to Preserve says of her festive sauce, "Once you make this fresh version, you probably won't buy canned or pre-made cranberry sauce ever again. I especially like the way the cranberries crackle and pop as they're cooking! This recipe offers plenty of variations. And it contains pears, which I adore. Oh, one more bonus: this recipe includes cooking the cranberries, which reduces their acidity and results in a smoother consistency -- better for spreading on those post-Thanksgiving turkey sandwiches."
INGREDIENTS
1 12-ounce bag fresh or frozen whole cranberries (about 3 cups)
3 fresh Bosc USA Pears, cored and chopped, peeling optional (about 3 cups)
1 ½ cups white sugar
1 cup orange juice
½ teaspoon ground cinnamon
Optional, add one or more of the following:
¼ cup raisins
¼ cup currants
1 tablespoon orange or lemon zest
1 tablespoon candied (chopped) orange peel
1 tablespoon chopped crystallized ginger root
¼ teaspoon nutmeg
¼ teaspoon ground ginger
⅛ teaspoon ground allspice
Pinch of ground cloves
DIRECTIONS
Rinse cranberries and pick through them, discarding any that look old or shriveled. Combine all main ingredients in a large, heavy-bottomed, non-reactive pan. In other words, don't use an aluminum, copper, or cast iron pan when cooking with high acid foods. If you are using any of the optional ingredients, reserve them until you have mashed the main ingredients.
Bring the mixture to a boil, stirring to dissolve the sugar. Reduce heat and simmer, stirring occasionally, for about 10 minutes. Once the cranberries start to pop, you can mash them a bit with a potato masher or the back of a large spoon, but it isn't necessary. If you want a chunkier sauce, stir but don't mash the mixture. Add optional ingredients if using.
Because of the high levels of natural pectin in the cranberries, the sauce thickens quickly once the cranberries skins have started to (audibly) burst. The sauce should be finished cooking within 5 minutes after the cranberries have popped.
To process, remove the preserving pan from the heat and spoon mixture immediately into hot sterilized jars, leaving ¼-inch headspace if you plan to seal them in jars, or 1 inch headspace if you plan to freeze them instead.
At this point you can either cover jars with tight-fitting lids (and store in the refrigerator for up to 3 months, or in the freezer for up to 6 months) or you can process by following the next steps: Look for any air bubbles in the jars and if you see any, use a knife to remove them before wiping rims clean and sealing according to USDA instructions. Process for 10 minutes in a boiling water bath.
yield: Makes 3 pints, or 6 half pints
Serving Suggestions:
Serve alongside your Thanksgiving turkey.
Whir in a blender with your favorite vinaigrette recipe to make a sassy salad dressing.
Incorporate a bit into a smoothie for extra Vitamin C.
Put a dollop on your non-fat yogurt.
Spoon over vanilla ice cream.
Add a dab to dress up a slice of plain cheesecake.
NUTRITION
Serving Size: 1.75 oz
Calories: 90
Carbohydrate: 22g
Dietary Fiber: 1g
Protein: 0g