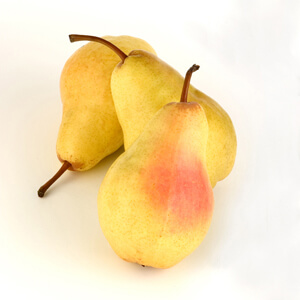 For cupcakes, prepare same cake batter. Fill paper baking cups ⅔ full. Bake for 30 minutes. Top each with walnut or pecan half if desired.
INGREDIENTS
Pear Walnut Cake
2 fresh Bartlett USA Pears, cored
1 cup packed brown sugar
½ cup shortening
1 egg
1 teaspoon vanilla
2 cups flour
1 teaspoon ground cinnamon
1 teaspoon ground nutmeg
½ teaspoon salt
½ teaspoon baking soda
½ cup milk
½ cup chopped walnuts (pecans may be substituted)
Broiled Maple Topping
1/4 cup butter or margarine
½ cup packed brown sugar
2 tablespoons milk
2 tablespoons maple syrup
1 cup flaked coconut
½ cup chopped nuts
DIRECTIONS
For cake: Finely chop pears to equal 1 ½ cups. Cream sugar and shortening until light and fluffy. Add egg and vanilla; beat until mixture is well blended. Combine flour, cinnamon, nutmeg, salt, and baking soda; add to mixture alternately with milk. Stir in chopped pears and nuts. Turn into greased 12 x 8 x 2-inch baking pan. Bake at 350 degrees for 30 to 35 minutes or until wooden pick inserted near center comes out clean. Spread Broiled Maple Topping over warm cake. Broil 2 to 3 minutes (watching carefully) or until bubbly.
For topping: Melt butter in small saucepan. Remove from heat. Stir in brown sugar, milk, maple syrup, flaked coconut, and chopped nuts. (yield: Makes about 1 ½ cups)
NUTRITION
Serving Size: 1 Slice (118g)
Calories: 430
Carbohydrate: 55g
Dietary Fiber: 3g
Protein: 5g
---
4 Comments » for Pear Walnut Cake