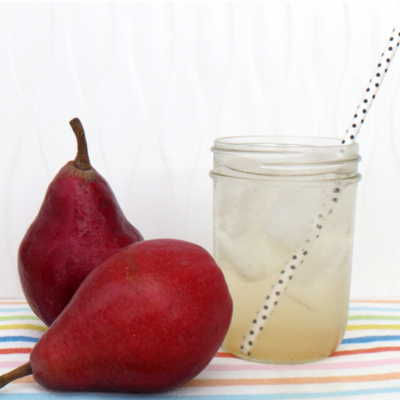 Pear Shrub with Vanilla and Cardamom
A shrub is a delightful tonic made from fruit, sugar, and vinegar that can be used to infuse flavor into all sorts of beverages. This pear shrub is bursting with fresh pear flavor and made even more delicious with the addition of creamy vanilla bean and aromatic cardamom. Mix it with prosecco or into other unique holiday cocktails, or simply stir together with sparkling water for a refreshing take on fruit soda. Any way you use it, it's the perfect unique addition to your holiday table. Use the ripest pears for the very best flavor
INGREDIENTS
5 ripe USA pears, such as Starkrimson or Red Bartlett, large dice
1 vanilla bean, scrapings and pod
8 whole cardamom pods, lightly crushed and toasted in a dry pan
1 ½ cups sugar
1 ½ cups apple cider vinegar
DIRECTIONS
In a 2 quart jar or other large container, combine the diced pear, vanilla bean and scrapings, toasted cardamom pods, and sugar. Seal the jar and rotate it several times to combine the ingredients. Place on the counter for 48 hours, rotating the jar twice daily to further mix the ingredients. The pears will release a lot of liquid and the sugar will begin to dissolve.
After 48 hours, add the vinegar to the jar. Seal and rotate the jar to combine. Place on the counter for another 24 hours, turning several times a day to be sure that the vinegar dissolves all of the sugar. Once the sugar has dissolved, strain the mixture through a sieve over a large bowl, pressing down on the pears gently to extract as much of the liquid as possible. Discard the pears, vanilla bean, and cardamom pods. Transfer the liquid into clean glass jars. The shrub can be stored in the refrigerator for several months.
Note: To make the pear soda pictured, combine 3 tablespoons shrub, ice, and unflavored sparkling water in a pint glass and stir to combine.
NUTRITION
Serving Size: 1 TBSP
Calories: 25
Carbohydrate: 7g
Dietary Fiber: 0g
Protein: 0g