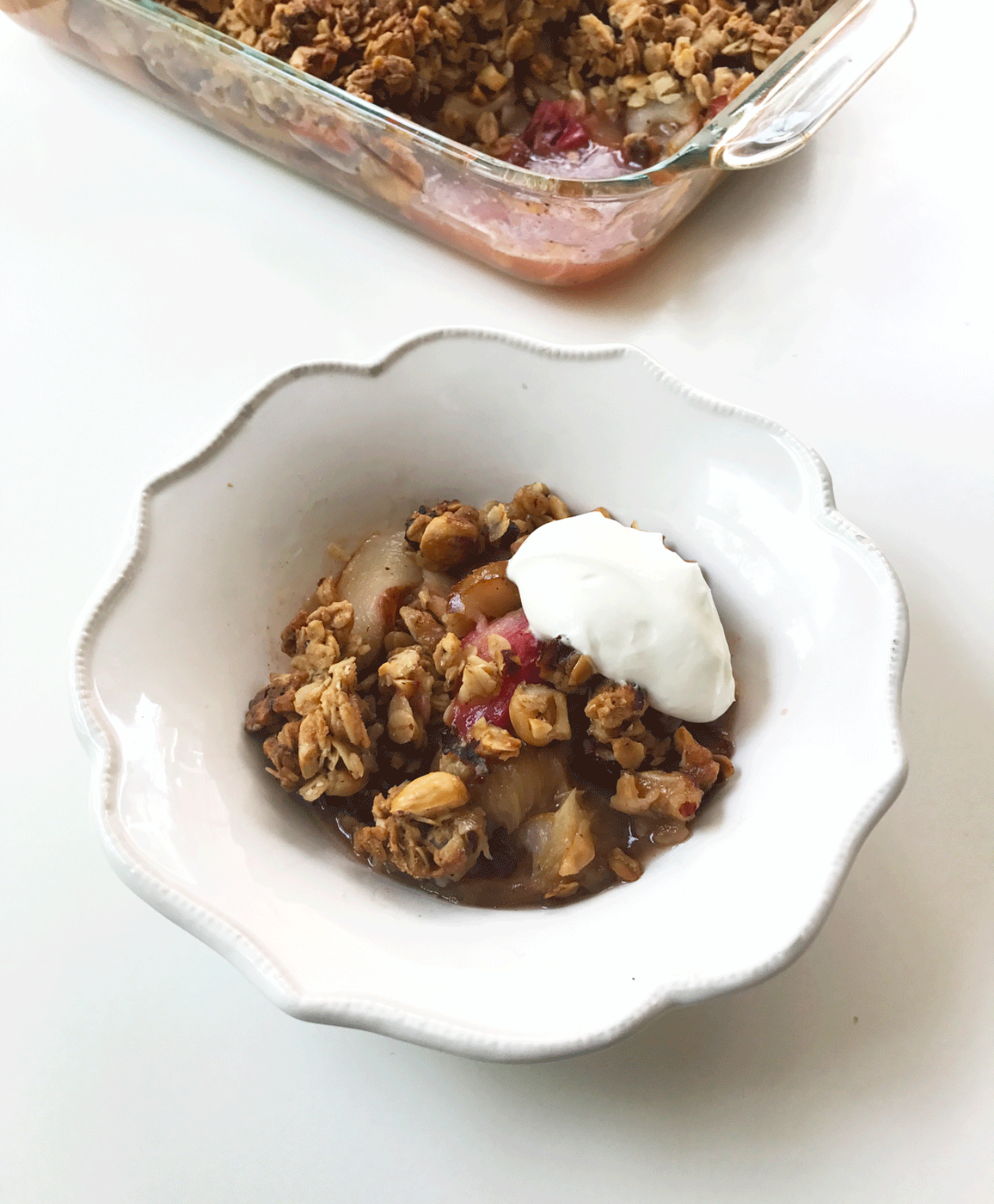 Pear-Rhubarb Breakfast Crisp
Pears pair perfectly with spring ingredients like rhubarb. Throughout the month of May, consider combining the two in your favorite recipes, from pies and tarts to chutney and compote. This hearty breakfast bake highlights in-season Anjous in a more healthful take on warm fruit crisp, with a crunchy, granola-like topping. It's positively delicious with a big spoonful of creamy Greek yogurt. Kids will love the idea of dessert for breakfast, but with olive oil standing in for butter, and maple syrup adding a touch of sweetness, it provides a satisfyingly wholesome start to their day.
INGREDIENTS
3 large USA Red Anjou Pears (about 1 1/2 pounds), stemmed, cored, and sliced
1 pound rhubarb, trimmed and cut on a bias into 1/2-inch slices
Zest of 1 lemon, plus 2 tablespoons lemon juice
1/4 cup firmly packed brown sugar
1 tablespoon cornstarch
1/2 teaspoon ground cinnamon
1/2 teaspoon ground cardamom (can be omitted, but increase cinnamon to 1 teaspoon)
1 teaspoon salt, plus a pinch
1 1/2 cups rolled oats
1 cup coarsely chopped hazelnuts
1/2 cup whole-wheat or white all-purpose flour
1/2 cup extra-virgin olive oil
1/4 cup pure maple syrup
Greek yogurt, for serving
DIRECTIONS
Position a rack in the lower third of the oven and preheat it to 375°F.
Toss the pears, rhubarb, and lemon zest and juice in a large bowl. Sprinkle with the brown sugar, cornstarch, cinnamon, cardamom, and a pinch of salt and toss again until evenly coated. Pour the mixture into a 2-quart baking dish and pat it down in an even layer.
In the same bowl that was used to make the filling, stir the oats, hazelnuts, flour, olive oil, maple syrup, and 1 teaspoon of salt until thoroughly combined.
Loosely sprinkle the oat topping in an even layer over the pear mixture. Place the baking dish on a rimmed baking sheet and transfer it to the oven to bake until the topping is deeply browned and crisp and the filling is bubbling, 50 minutes to 1 hour. Serve the crisp warm from the oven or cooled to room temperature, with a big spoonful of yogurt. Leftovers will keep in the refrigerator for up to 3 days.
NUTRITION
Serving Size: 6 oz
Calories: 360
Carbohydrate: 36g
Dietary Fiber: 5g
Protein: 5g
---
1 Comment » for Pear-Rhubarb Breakfast Crisp