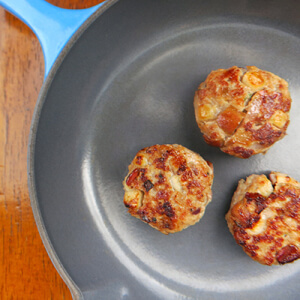 Pear and Maple Breakfast Sausage
These sausages are extremely simple to make, they freeze well, and they cook up like a dream—crispy edges, tender centers, and a burst of juicy, sweet pear in every bite. Try them alongside French toast on a Sunday or with eggs and fresh pear slices for a simple breakfast. – Hilary Finch Hutler,
Tummyrumblr
INGREDIENTS
1 tablespoon canola oil, plus more for frying sausages
½ small red onion, small dice
1 pound ground pork
1 ½ tablespoons maple syrup
2 or 3 shakes of your favorite hot sauce (optional)
½ teaspoon salt
Several turns of freshly ground black pepper
1 firm-ripe USA Pear, such as Red Anjou, medium dice
DIRECTIONS
Heat 1 tablespoon of canola oil in a sauté pan over medium heat. Once hot, add the diced red onion and cook, stirring often, until lightly browned, about 3-5 minutes. Set aside to cool slightly. In a medium bowl, combine the pork, maple syrup, hot sauce, salt, pepper and the browned onions. Mix the ingredients together thoroughly to distribute the seasonings. Lastly, add the diced pears, mixing them in as gently as possible.
Form the mixture into 10-12 sausage patties. Lightly moistening your hands will help prevent the sausage from sticking to you. At this point, some of the sausage patties may be stored in zip-top bags and frozen.
To cook the sausage patties, fry them in a thin layer of canola oil over medium heat, about 5 minutes per side. Check the centers for doneness. If the sausages are not cooked all the way through, reduce the heat to low and cover the pan for an additional 5 minutes.
NUTRITION
Serving Size: 4.5 oz
Calories: 260
Carbohydrate: 10g
Dietary Fiber: 1g
Protein: 13g