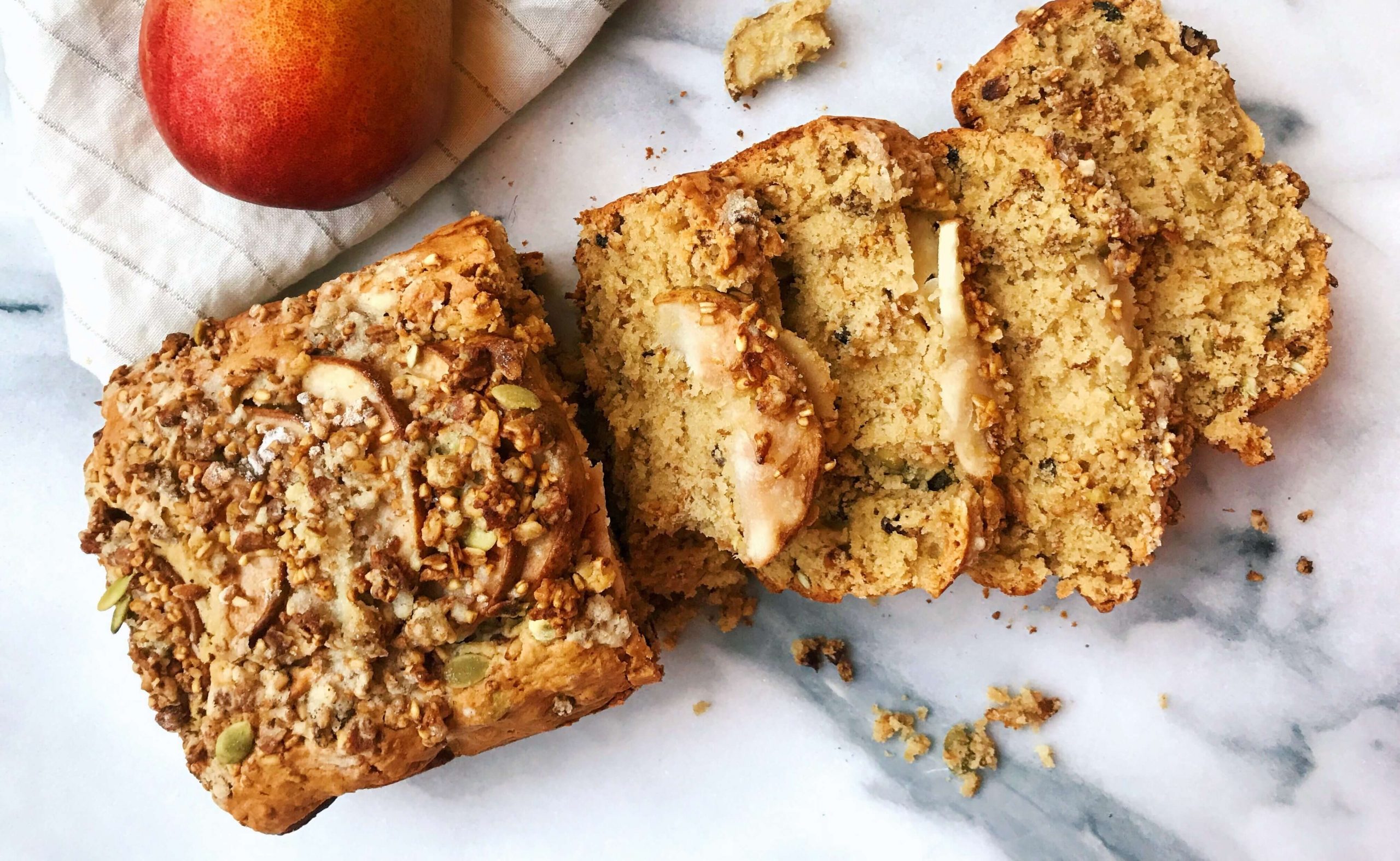 Unpeeled, grated pears add flavor and moistness to this nutritious bread. It's great served with butter or cream cheese with a luncheon salad or for a simple dessert. Or toast it for a breakfast treat. For variation, add chopped walnuts, flaked coconut, nutmeg, or cardamom to the batter.
INGREDIENTS
Bread
2 ripe USA Pears
½ cup butter or margarine
¾ cup brown sugar
2 eggs
2 cups flour
2 teaspoons baking powder
¼ teaspoon baking soda
¾ teaspoon salt
¼ cup buttermilk
1 teaspoon grated lemon peel
1 cup granola
⅓ cup raisins
Crunchy Topping
1 tablespoon butter
1 tablespoon flour
2 tablespoons sugar
¼ cup granola
DIRECTIONS
For bread: Reserve ½ pear to slice for topping. Grate remaining unpeeled pears to make 1 cup.
Cream butter with brown sugar. Add eggs. Beat well. Stir in grated pears. Sift flour, baking powder, baking soda, and salt and add alternately with combined buttermilk and lemon peel. Stir in granola and raisins. Turn into greased and floured 9 x 5 x 3-inch pan.
Top with sliced, reserved pears. Spoon crunchy topping over the batter and bake 1 hour at 350 degrees. Cool 10 minutes, remove from pan.
For crunchy topping: Mix butter with flour and sugar until crumbly. Stir in granola.
yield: Makes 1 (9-inch) loaf
NUTRITION
Serving Size: 1 Slice (135g)
Calories: 520
Carbohydrate: 55g
Dietary Fiber: 4g
Protein: 7g
---
1 Comment » for Pear Granola Bread